2013-03-18
Pülmanns
Trendsetters
Claudia&Ralf photographed the collections with Stylist Ursula Lake on location in Cape Town.[br]Production: IG Productions[br][br]
---
2013-03-17
Alexander Straulino
Sleek Spring 'War Paint'
Shot by Alexander Straulino.
---
2013-03-14
Andoni & Arantxa
A trip to the lake..
The sensuality of water dominates the editorial shooting by Andoni & Arantxa c/o Close Up Milano. The enchanting, blue-eyed Sibui Nazarenko brings everything together showing strength in her expression. [i] [/i]Styling: Luca Stefanelli, Hair: Noelia Corral, Makeup: Arianna Campa.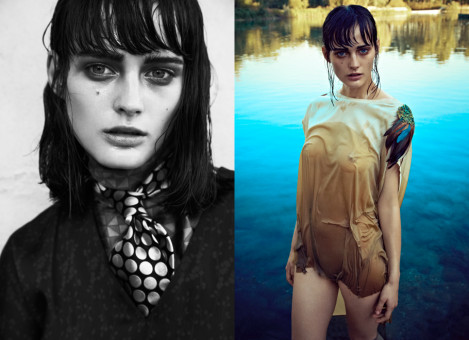 ---
2013-03-14
Giampaolo Sgura
Giampaolo Sgura for Vogue Spain
Anna Selezneva looking classy for Vogue Spain. Photographed by Giampaolo Sgura c/o Close Up Milano, she gets her lofty style from Geraldine Saglio.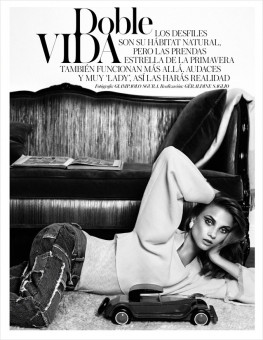 ---
2013-03-14
Magnus Reed
A Holiday Diary
Magnus Reed c/o Agentur Linke shot the new catalog for Henry Cotton with the title »A Holiday Diary« in Italy. A picnic at the beach, chilling by the pool, playing tennis, and a relaxing stroll all show the joy of summer. [br][br]Creative Direction: Manuel Frei, Art Direction: Leonard Streich, Styling: Nikki Brewster, Retouching: Jakob Olsson, Fabian Oredsson. 
---
2013-03-13
Fredrik Wannerstedt
All about contrasts
[i]Strong eyebrows. Black and white. High-necked and bare skin. Few color spots. Dominant Assescoires. Fredrik Wannerstedt and his team of Robert Nordberg, Sara Denman and Peter Johansson show with Alina a world of contrasts for Plaza Magazine.[/i][br][i][br][/i][/i][i]Styling:Robert Nordberg, Modell: Emilia c/o Stockholms gruppen, Makeup: Sara Denman c/o Link Details, Hair: Peter Johansson c/o Mikas Looks[/i]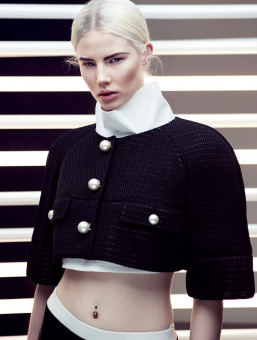 ---
2013-03-13
Thomas Schenk
Sweatpants suits everyone
Thomas Schenk shot the Boulezar A/W collection 2013 and captures the cool look. Like the philosophy of the label "Nobody can permanently wear a mask"  the luxury sweatpants suits everyone, whether manager or model.
---
2013-03-12
Niclas Heikkinen
Pocky Game
Currently ranked # 28; the English born model [b]Jester White[/b] (Select) appears together with the Givenchy muse [b]Pablo Otero[/b] (Next) in the recent issue "Pocky Game" of the UK based magazine [b]Grit[/b]. Photographed by [b]Niclas Heikkinen[/b] and styled by [b]Larissa de Filippo[/b] both boys wear sportswear mixed with PVC pieces. The cover artwork is by an up and coming artist [b]James Richards[/b] who lists Colette, Thom Browne, Alexander Wang and V Magazine as his clients. Hair: Michael Jones, make up: Nami Yoshida @The Book Agency[br]
---
2013-03-11
Sesse Lind
Contentmode shot by Sesse Lind
Photographer: Sesse Lind c/o [a http://previiew.com/agencies/shotview-photographers-management.html]Shotview[/a], Creative Director: Deborah Ferguson, Hair Stylist: Hauke Krause c/o ArtList Paris, Makeup Artist: Deanna Melluso c/o [a http://previiew.com/agencies/bryan-bantry-agency.html]Bryan Bantry Agency[/a], Model: Kyla c/o VNY Model Management
---
2013-03-10
Markus Pritzi
The softer side of the man
Markus Pritzi shows a gentler side in this GQ Style shoot. Despite the masculine and angular face he shows softer flowing movements and facial expressions - the tender side of the man.
---