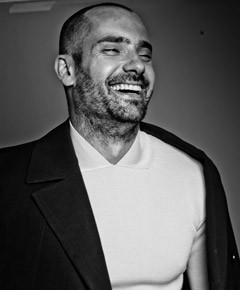 Oliver Ress
Hamburg-born Oliver Ress is a man of many talents. Casting director, fashion expert, art buyer, and company founder all in one. He's one of the two creative minds behind CREATVT, a new kind of agency connecting diverse creatives in the fashion world. In just two years the company based in New York and Paris has established itself as a major player in the field with collaborations such as Vogue, Numero, Antidote, Chloe and Akris under its belt. The future is looking bright for the fresh, much in demand venture, and we've had a chat with Oliver about it all.
On your site you describe yourself as a »high fashion, beauty and celebrity consulting agency«. What exactly does that mean? What does your agency actually do?
We are the link between photographers, editors and advertising agencies; a go-to point for creatives who need help getting in touch with other creatives. At the end of the day we act as casting directors and art buyers.
When a fashion label wants to make a campaign they figure out the copyrights of the images, plan out their vision, make a budget and then come to us with all that information so we can find the models that fit their idea. This is when we function as casting directors. But many clients need more nowadays which is why we also act as art buyers, meaning we »buy« the artistic aspect of a production, such as the photographers and stylists.
Are you involved in the actual shoots at all?
No. Our task is to bring the right people together, find the perfect match, and process the bookings. If necessary, we can also provide a producer, but that's relatively rare.
How did you come up with the concept for CREATVT? It sounds like you have really bridged a gap in the market.
The demand for the services we offer is enormous, probably because our concept is truly unique. The fact that we know both sides of the business makes for a rare combination. We not only know the creative part of the job, we also know the »politics« part: Why is a model's management pushing in a particular direction? Why does a specific brand need someone with a Mediterranean look? We want to break the chains of the ego business which fashion definitely is today. Most people in the industry, whether photographers, stylists, or something else, just work for their own name to advance their own personal brand. It's really all about the names: He shot the campaign; she did the styling…but this is a very limiting attitude.
How do you differentiate yourself from a normal casting agency?
There are model agencies, photo agencies… even agencies for stylists, but not for casting. There are casting companies of course, but all they do is represent their own models. A model booker just cares about his own girls and that's it. We can actually imagine the whole editorial story with the understanding of an art director: we can envisage the image and make it happen. We have many casting directors in different cities from Stockholm to Paris and New York with direct contact to all the local agencies, plus the capacity to do our own castings. When there's a new project we send the mood board to everyone and our casting directors in different cities check for the perfect models for the job. At the moment we are six casting directors in total, but we're growing quickly: at least two more will join us this year.
How did you decide where to open your offices? Why exactly Paris and New York? That's quite ambitious!
I guess it would have been easier to just do everything in Paris, but we planned the infrastructure meticulously and decided on the New York – Paris axis because these really are the two primary markets. The combination NYC-Paris works quite well because Americans are open to European culture. It's a bit like this: the image is created on the French market, but the money is made in New York. Germany for example is still a bit behind in this context.
What's your typical working day like?
I get up at 7:30am, exercise, I'm at my desk at 9:15am and then it doesn't really stop till midnight because of the different time zones we cover. It's mainly castings, meeting clients, going to fashion shows…
»Of course in a way everything has always already been done before, but the young ones just have a different drive and are still young and reckless.«
Oliver Ress
Your company is quite young but you've already got an impressive client list. What's the secret of your success?
You need luck and you need to know what you're doing. We did a lot of preparatory work and planned everything in detail beforehand. We were also lucky that certain people gave us their trust, but then you also have to justify that trust, which we did. Of course there were also moments when we thought: »Is this really going to work out?« In the beginning you have to invest a lot without getting much back, but the key is to persevere and give everything. These days I can sometimes even take an evening off and go to the movies with my mom!
What have been your personal highlights so far?
There have been several. When I got my first business card with NYC / Paris / Stockholm written on it…that felt good. I come from a rather modest background so that was a huge thing for me. Or when this famous casting director from Paris, who I had been following for years, contacted me to collaborate - that was a real stamp of approval. Actually everything has happened really fast, it's almost a bit overwhelming. Another important moment was our Christmas party, when we got the whole team from all over the world together to celebrate. Just a year and a half earlier my partner and I had still been working from a little room at my parents' house.
What's your opinion on the current state of fashion photography?
It's very inspiring at the moment. There are so many new ones making it all the way to the top. The next generation is kind of taking over right now. It's very refreshing and there's a really good energy. Of course in a way everything has always already been done before, but the young ones just have a different drive and are still young and reckless. I'm especially thinking of Karim Sadli, Lachlan Bailey, Ward Ivan Rafik, and Joan Braun.
What are your plans for the future?
I hope we'll still keep going in the same direction for a very long time and be able to help a lot of young creatives build something for themselves. And I hope we'll keep doing what we're doing with the same level of joy and fun, as is the case right now.


By Sarah Shug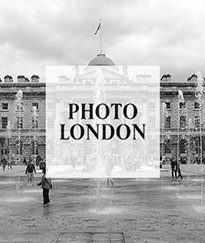 Roundup
Photo London
London has for the first time ever hosted a major international photography fair and Previiew was there to take a look at its much-awaited inaugural edition located at the beautiful Somerset House, the very building where the term photography was first coined. Here are our seven favorite moments from Photo London 2015.
READ MORE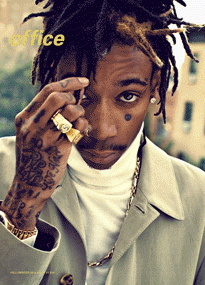 MAGZINE REVIEW
Office Magazine
New York-based Office magazine is one of the latest exciting additions to the publishing world. We've had a look at the brand new first edition, which draws you in with its fresh take on presenting creatives and their projects while offering a stunning visual experience with photography at its core.
READ MORE