Art Season Kick-Off
8 Photography Shows You Shouldn't Miss This Fall
As every year, the month of September signifies the return of the art season all over the globe. We've scouted the gallery and museum programs to carefully select the eight photography shows you really shouldn't miss this fall, ranging from established masters to up-and-coming talents. Enjoy!
I
André Kertész at Foam Amsterdam
Until 10 January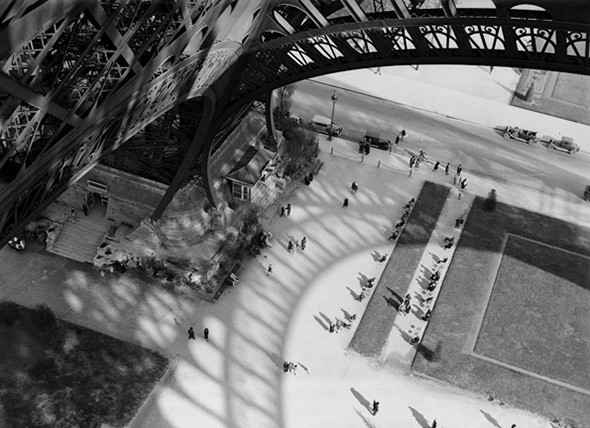 The Shadow of the Eiffel Tower, Paris, 1929 © André Kertész
»Mirroring Life« is a retrospective looking back at the powerful oeuvre of Hungarian photographer André Kertész, whose poetic approach left a lasting impression on the visual language of 20th century photography. He was a major influence for French photography legend Henri Cartier-Bresson, for example. The extensive exhibition traces Kertész's 70-year career from its early beginnings in his native Hungary and time in Paris, where he played a leading role in the avant-garde, to New York, which he called home for nearly fifty years. More than 200 photographs are on show as well as letters and personal documents taken from the vast collection of 100,000 negatives and 15,000 color slides that the artist donated to the French Ministry of Culture a year before his death.

At his core, Kertész was a flâneur, an anonymous observer, strolling through the city streets capturing everything from cafés and parks, to his artist friends, shop windows, shadows cast by trees and passers-by, but always with an unusual composition, from a unique perspective. A great chance to discover the multifaceted work of a highly renowned photographer and a rare opportunity to get to know his rarely exhibited color photographs.
II
Niko Luoma at Atlas Gallery, London
Until 11 November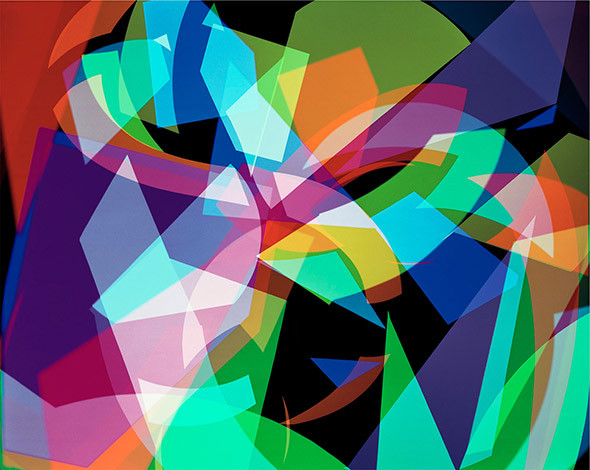 Self Titled adaption of The Weeping Woman, 2015
Finnish artist Niko Luoma is one of the most celebrated amongst the Helsinki School of Photography, a loose group of artists who attended Aalto University - a school for arts, design and architecture, that played a major role in introducing the use of the photographic process as a conceptual tool. With "Adaptations", London's Atlas gallery presents new works by one of its most prominent representatives: a fascinating series of monumental abstract adaptations of well-known works of art, such as Night Fishing at Antibes and Weeping Woman by Pablo Picasso and Sunflowers by Vincent Van Gogh.

Luoma achieves a staggering effect with his own unique method, repeatedly exposing a negative to light – sometimes thousands of times – after meticulous preparation that includes drawings and precise calculations. But as always the case with analogue photography, there remains an element of chance and surprise, revealing not only the scientific, but also the unexpected nature of photography. »My work is about the process as much as about the result,« says the artist himself.
III
Alec Soth at Deichtorhallen, Hamburg
Until 7 January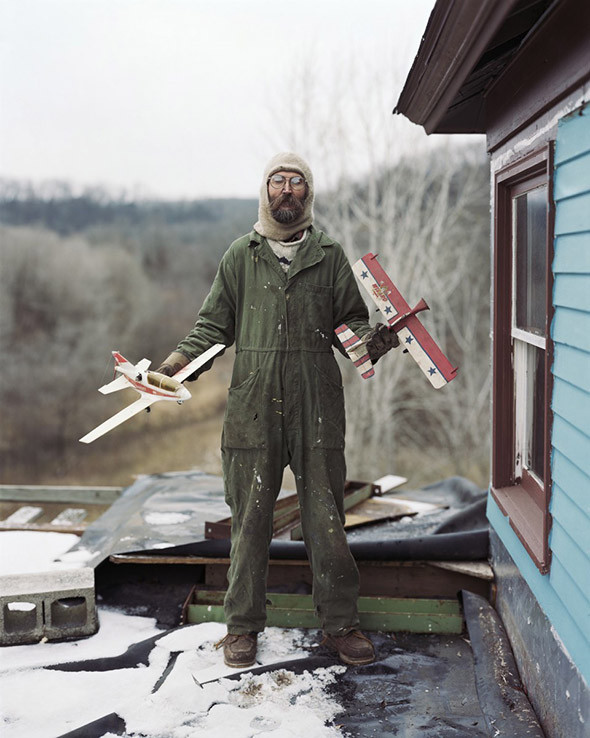 Charles, Vasa, Minnesota 2002, © Alec Soth
American Magnum member Alec Soth is not only one of today's major documentary photographers, he also has a big influence on the younger generation as a teacher, Instagrammer, self-publisher and blogger, and the renewed success of the photo book is not least because of him. The exhibition »Gathered Leaves« now brings the wide-ranging oeuvre of the photography pop star to Hamburg, presenting a captivating mid-career retrospective featuring four of his most significant series, which all sensitively explore the social and geographical landscapes of his homeland with all its oddities and banalities. Fueled by an apparent fascination for America's vastness that recalls Robert Frank, Stephen Shore, Jack Kerouac and the likes, he not only turns his lens on nature, but also the daily life in small towns and unassuming suburbs, intimately revealing human emotions, personal destinies and longings, creating a poetic, authentic study of America and its people today. »To me the most beautiful thing is vulnerability,« the photographer says himself.
IV
Nicholas Nixon at Institute of Contemporary Art, Boston
From 13 December to 22 April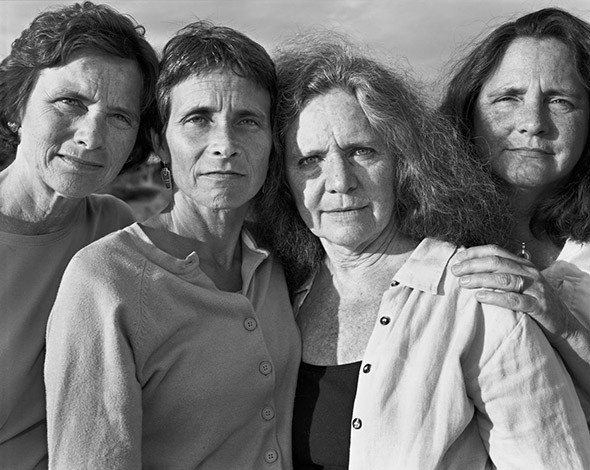 Nicholas Nixon, The Brown Sisters, Truro, Massachusetts, 2016. Gelatin silver print, 20 x 24 inches (50.8 x 61 cm). Courtesy Fraenkel Gallery, San Francisco. © Nicholas Nixon
American photographer Nicholas Nixon has made a name for himself with intimate portraiture photography since the 70s, capturing the intimate details of family, relationships, and life as it unfolds in front of his camera. Standout works are his tender and powerful series »People with AIDS«, as well as his celebrated project »The Brown Sisters«, 40 black-and-white portraits of Nixon's wife Bebe together with her three sisters; one photo being taken each year and the sisters depicted in the same order from left to right. »Persistence of Vision« shows the emotional series in its entirety, revealing time's passing and life's inevitable finiteness. The images are paired with other photographs taken by Nixon in the same year, drawn from various bodies of work capturing life in and around his hometown Boston.
V
Wim Wenders at the Photographers Gallery, London
From 20 October to 11 February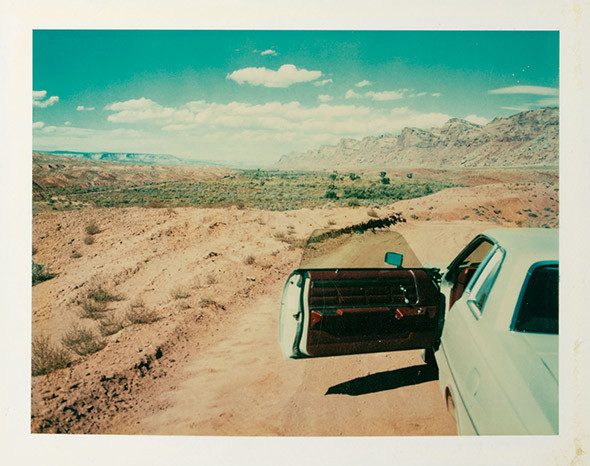 Wim Wenders Valley of the Gods, Utah, 1977 © Wim Wenders
Oscar-nominated German director Wim Wenders is of course most renowned for his films, from Paris, Texas to The Million Dollar Hotel. With "Instant Stories" London's Photographers Gallery now presents a different side of the famous filmmaker, offering a rare chance to discover his personal and previously unexhibited Polaroid work that gives a deeper insight into Wenders' inner mind and thought processes.

The exhibition brings together over 200 Polaroids, combining diary-like impressions with aesthetic inspirations from all over Europe and the US, including portraits of cast, crew, friends and family, still lifes, landscapes, and more, both on and off set between the early 1970s and mid 80s - a visual notebook of sorts. "The entire Polaroid process (and procedure) has nothing to do with our contemporary experience when we look at virtual and vanishing apparitions on a screen that we can delete or swipe to the next one. Then, you produced and owned 'an original'! This was a true thing, a singular object of its own, not a copy, not a print, not multipliable, not repeatable. You couldn't help feeling that you'd stolen this image-object from the world. You'd transferred a piece of the past to the present," Wenders nostalgically writes in the accompanying book.
VI
Irving Penn at Grand Palais, Paris
From 21 September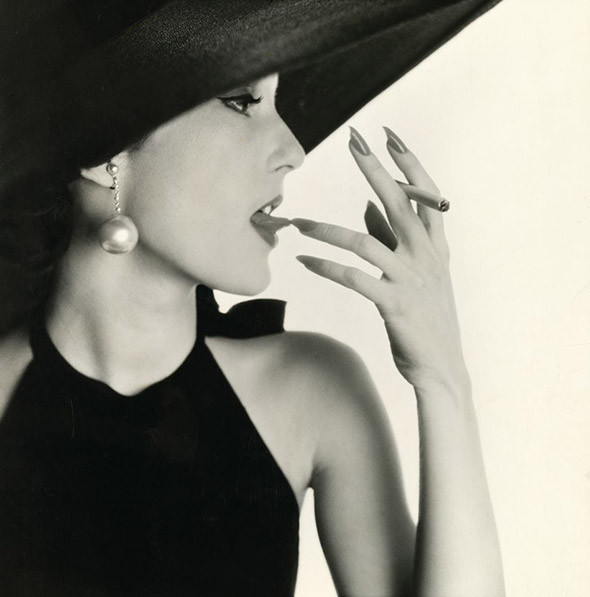 © Irving Penn
This year the iconic Irving Penn, who sadly passed away in 2009, celebrates his 100th birthday. To mark the occasion, New York's Metropolitan Museum of Art, Paris' Grand Palais and the Irving Penn Foundation have teamed up for a massive anniversary exhibition dedicated to the impressive oeuvre of one of the most significant photographers of the 20th century. A studio photographer par excellence and by preference, he had a thing for black-and-white prints as well as minimal backgrounds, distinguishing himself with pared-down aesthetics and meticulous attention to composition, nuance and detail.

He was especially renowned for his portraits of celebrities and artists from Pablo Picasso and Yves Saint Laurent, to Audrey Hepburn and Alfred Hitchcock, but he also photographed New York's working class with the same lighting and studio set-up as the city's more privileged. Penn was equally known for his still lifes and fashion shoots and his images graced the cover of Vogue no less than 160 times. »Centennial« brings together more than 240 images from his long and fruitful career, all prints that Penn developed with his own hands.
VII
Contemporary Chinese Photography and the Cultural Revolution at Museum für Fotografie, Berlin
Until 8 January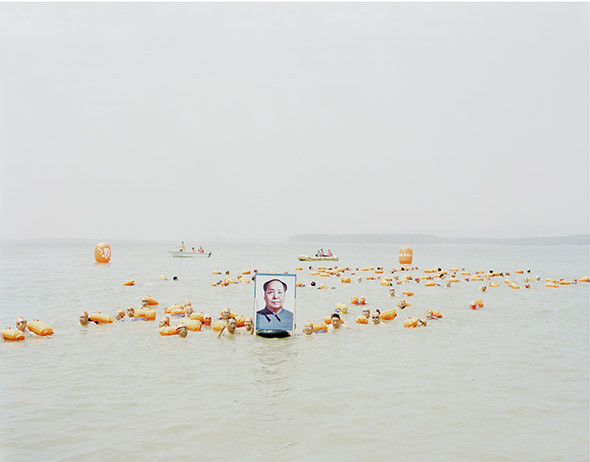 Zhang Kechun: People Crossing the Yellow River with a Photo of Mao Zedong, Henan, 2012. Inkjet Print, 120 x 147 cm © Zhang Kechun
China's Cultural Revolution: A reform movement by Mao Zedong introduced in 1966 to eliminate counterrevolutionary elements in the country's institutions and leadership, characterized by political zealotry, purges of intellectuals and social and economic chaos, it continues to influence Chinese art to the present day.

This exhibition, thought up by a team of Chinese and German curators, examines its impact on today's Chinese photography scene. While one part of the show deals with the visual world of the Cultural Revolution at the time, a second part presents the different ways Chinese photo artists reference that period in their work today: some explore the use of photography as a medium for propaganda, some deal with censorship, and others document the surviving legacies of the Cultural Revolution. This intellectual show not only features imagery, but also video installations and photo sculptures offering an interesting insight into a little explored and exhibited subject.
VIII
Olivia Locher at Steven Kasher Gallery, New York
Until 21 October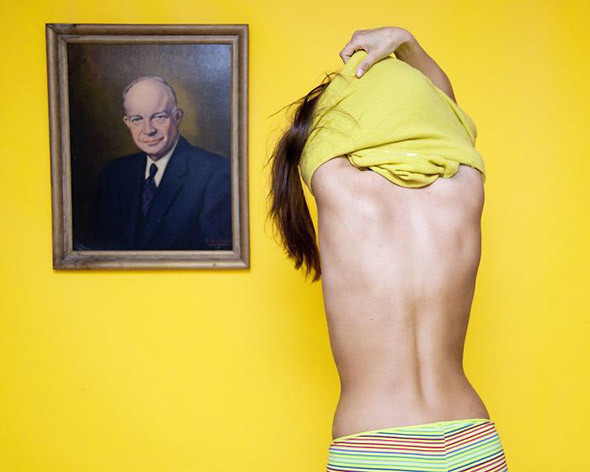 I Fought the Law (Ohio), 2014 © Olivia Locher
Olivia Locher, whose work has been published in The New York Times Magazine, T Magazine and W Magazine, among others, has now scored a solo exhibition at a major New York gallery. Not bad for a twenty-something! »I Fought the Law«, her first solo show in the Big Apple, is a playful take on America's most unusual laws. Some are real, some were never put into practice and others are outdated. Her tongue-in-cheek images, created between 2013 and 2016, rebel against the nonsensical legislation, but always have a dash of humor.

Nevertheless, they also serve as a rather serious social and political commentary, pointing to the hundreds of decisions big and small made every year by local and state lawmakers. Why can't wine be served in teacups in Kansas? Why is it illegal to have an ice cream cone in your back pocket in Alabama? Why must pickles pass a bounce test in Connecticut? And why did Texas institute a ban on children having unusual haircuts to uphold the community's standards of decency? An original and interesting subject matter intelligently executed by a rising talent that you should definitely keep an eye on…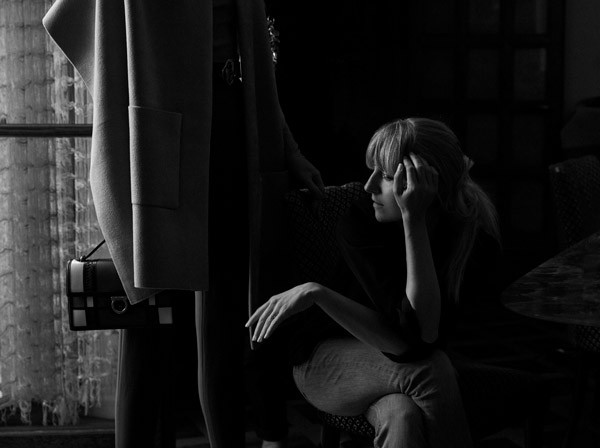 Interview
Léa Nielsen
Danish-born fashion photographer Léa Nielsen is not only known for her fashion shoots but also for her captivating collage work. We spoke to the former dancer about exchanging the theatre stage for the photo studio, balancing commercial and personal work, and the importance of never giving up.
READ MORE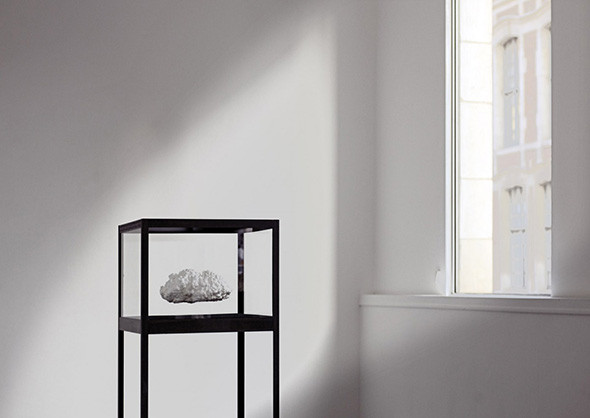 Interview
Vincent Fournier
Although visual artist Vincent Fournier, who uses photography as his main tool of expression, feels most at home in the art world, he doesn't shy away from the occasional editorial shoot. We talked with him about a gap that is not always easy to bridge, and much more.
READ MORE