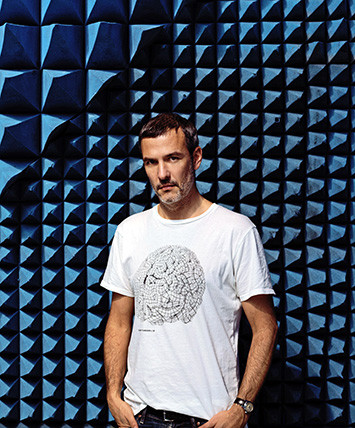 Vincent Fournier
Although visual artist Vincent Fournier, who uses photography as his main tool of expression, feels most at home in the art world, he doesn't shy away from the occasional editorial shoot. We talked with him about a gap that is not always easy to bridge, and much more.
French-born Vincent Fournier, who lives and works in Paris, is much more than just a photographer. Describing him as a visual artist who uses photography as one of his major tools of expression would most probably be a more accurate label. Fournier has especially made a name for himself with his acclaimed »Space Project«, for which he photographed, amongst other things, rockets, astronaut training centers, launch platforms and shuttles. Although he has exhibited his work in renowned galleries and museums around the globe, he's also no stranger to the world of magazines and advertising – not always an easy gap to bridge. That's why it's ever more striking how easily the artist shifts from one universe to the other, never losing his futuristic, science fiction-inspired, otherworldly signature style. We talked to him about this balancing act, what it feels like when your work becomes part of The Met's collection, and more.

By the way, since we spoke, his piece »Cerveau Nuage«, printed in 3D and levitating on an electromagnetic field, has been taken into the permanent collection of Centre Pompidou – congratulations!
In your work you touch upon subjects from space exploration to artificial intelligence. What is it that fascinates you so much about this field?
The starting point was my childhood. I feel like I grew up in a time that meant the end of utopias. The world was changing, accelerated by the advance of everyday technology. My parents took me to a science museum in Paris, where I was impressed by these old machines whose time had already passed. I've always been attracted to science fiction and futuristic utopias… I like to mix the past and the present and create something that seems timeless. I'm interested in questions like what kind of future is possible? What will happen one day? I like to play with that, anticipate, exaggerate, and imagine… in that context I read a lot about scientific research too, for example. I also really like the mythical aspect of it though.
You started out by studying visual arts and then photography afterwards. Why did you choose it as your main medium?
I came into contact with photography through my father, who had a camera and a darkroom. First there was the artistic intention, and then I was looking for a tool to express myself with… it's a contextual choice, and photography is an objective tool in a way. It has this »proof« side to it: When we can photograph something, it means it actually exists. Plus, I adore observation. It's not a magic wand, but a camera can open up places to you that you normally wouldn't be able to access.
You've worked a lot with what has been described as »staged documentary«, where you consciously organize your composition and framing…
Yes, I like »staged documentary« as you describe it. However, I also like to experiment and develop new fields. At some point I need to create ruptures, enter difficult places and confront myself with new and unknown things like 3D images and objects, installation, films… I'm now more into a »photographic« phase. I love photography anyway!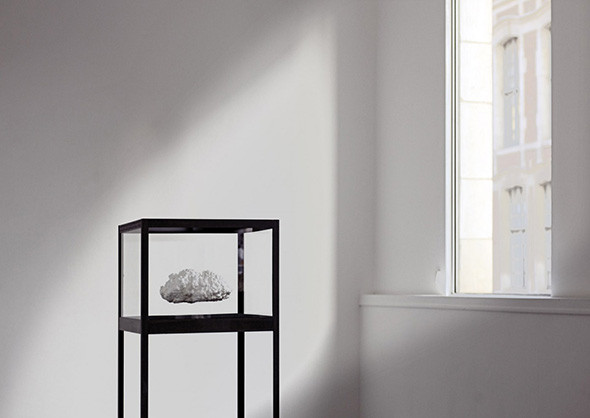 Cerveau Nuage (brain-cloud) by Vincent Fournier
Your work is very recognizable, and you have developed your very own style. Was that difficult?
It takes time to find your own style. In the beginning, you mostly just copy the masters, the great photographers you admire. Only afterwards are you able to create your own thing. I found inspiration in a lot of different areas, from cinema to architecture. I draw a lot of inspiration from science fiction, for example Kubrick and Tarkowsky, but also from literature, such as Borges and Bergsson. You need to water your garden, so to say, take charge, and be confident in what you do.
How did you »make it«? What's the secret of your success?
It was a bit of a domino effect. I never pushed for it much. I did what I did because I wanted to, and because I found it necessary and important. Afterwards people found it interesting and asked me to exhibit my work and so on. It all happened rather organically.
When you were studying, did you think you'd be able to make a career out of this?
I always thought it would work. I think people make art to show it to people. If no one were interested in what I do, I would stop. I don't believe those who say they make things just for themselves. You don't make art to hide it in your room for no one to see. Plus, you have to make a living.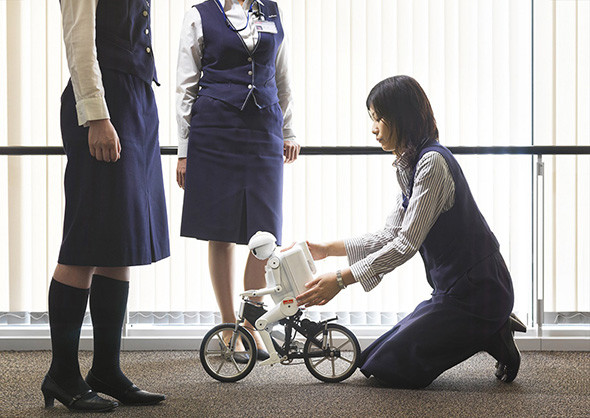 Murata Boy #1 [Murata], Head Office building, Nagaokakyo-100 shi, Kyoto, Japan, 2010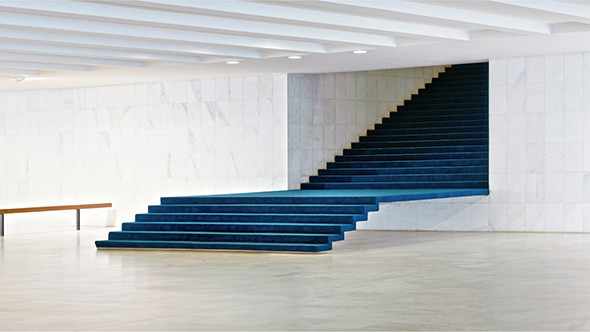 The Itamaraty Palace - Foreing Relations Ministry, Stairs, Brasília, 2012
You've come really far and some of your pieces are now part of The Met's collection. Has that been the highlight of your career so far?
When I received the email about my work being integrated into The Met's permanent collection, I thought it was spam. I couldn't believe it. It was a really significant moment for me. I might have another piece in the Centre Pompidou soon, which would be absolutely amazing.
You don't only do exhibitions, but also advertising and editorials – how do you bridge the gap? Is it hard to do both? And do you do advertising for the money or is it also a heart thing?
I've learnt a lot from advertising because it brings constraints and forces you to control all the details. However, it's more about teamwork than a personal project. In fact, they are almost exact opposites. With advertisements you have to give clear answers to very precise questions, in art there is simply no question and nobody cares about an answer. Of course, there's also a financial interest to making ads but they're not a priority and I normally only do one or two per year. My main income comes from the sale of my art. I also do collaborations, like with the Baccarat Hotel in New York or the Isetan department store in Tokyo.
How is the approach different?
With advertising you respond to a request and everything is very clear. In art there are no answers to give, and no one asks you to produce anything.
Some art is very commercial, even in contemporary art, while some ads are very artistic.
Vincent Fournier
You recently did a beautiful shoot with Louis Vuitton's artistic director. How did this come about?
Thank you! The Louis Vuitton shoot was something quite different. It was a kind of collaboration. I admire the work of Nicolas Ghesquière and I know that he appreciates mine. He saw my work this year at the Mori Art Museum in Tokyo in the exhibition «The Universe and Art» and contacted me through Harper's Bazaar USA. I then proposed taking pictures of his collection at Villa Cavrois, a 1930s modernist house designed by Robert Mallet-Stevens, and also at Oscar Niemeyer's French Communist Party Headquarters. The series has been published in most of the international editions of Harper's Bazaar. Such a great story and to be continued!
How much freedom do you have in a shoot like that?
I have a lot of freedom when it comes to the location, the decoration, the universe… but I don't choose the models or the clothes.
There are still those who criticize others as selling-out when doing advertising work. What do you think about that?
I find the debate idiotic. Either your work and your artistic universe resist that, or not. And it's good to confront yourself with that. Some art is very commercial, even in contemporary art, while some ads are very artistic.

More about Vincent Fournier: vincentfournier.co.uk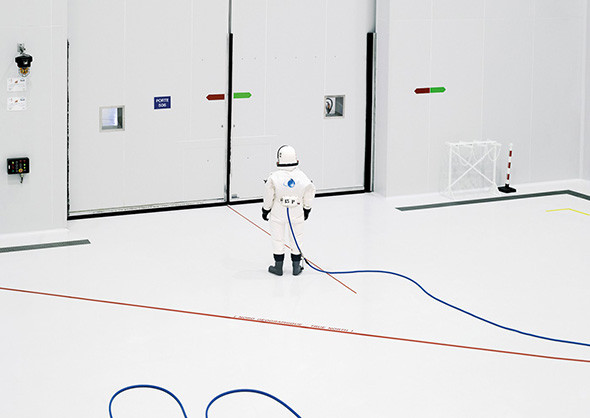 Ergol #1, S1B clean room, Arianespace, Guiana Space Center [CGS],Kourou, French Guiana, 2011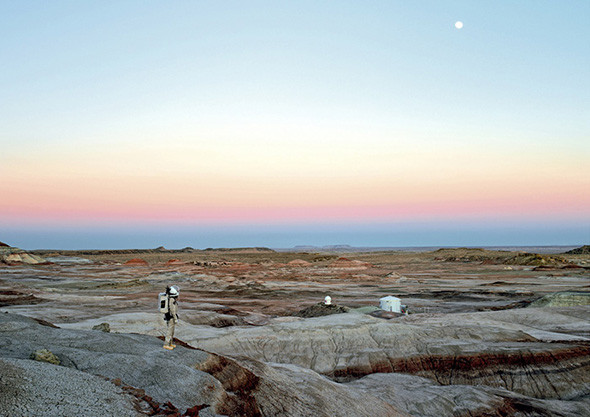 Mars Desert Research Station #11 [MDRS], Mars Society, San Rafael S 64 well, Utah, U.S.A., 2008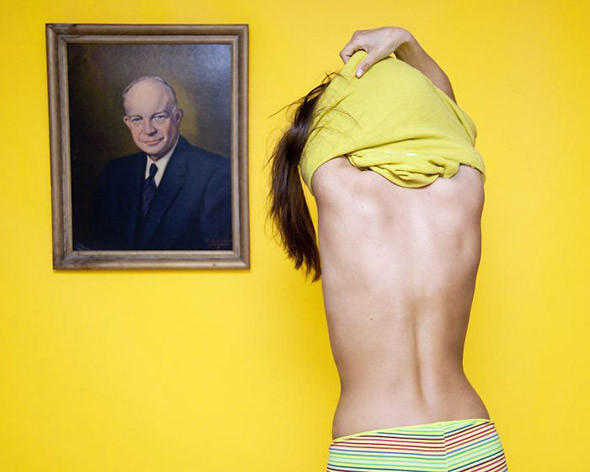 Art Season Kick-Off
8 Photography Shows You Shouldn't Miss This Fall
As every year, the month of September signifies the return of the art season all over the globe. We've scouted the gallery and museum programs to carefully select the eight photography shows you really shouldn't miss this fall, ranging from established masters to up-and-coming talents. Enjoy!
READ MORE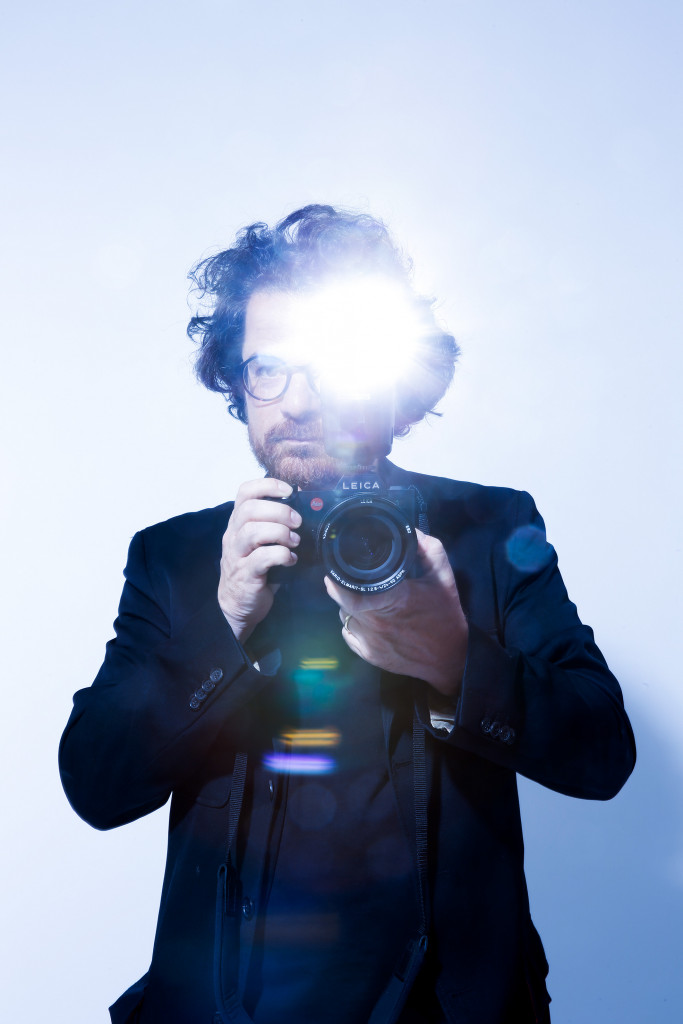 Interview
Peter Rigaud
On the occasion of the recent release of »Burg«, a captivating book exploring Vienna's iconic Burgtheater and its crew, we sat down with renowned photographer Peter Rigaud to talk about the challenging project and his practice in general.
READ MORE