Interview
Enrique Badulescu
7 min read
Question:S Magazine
Answer:Enrique Badulescu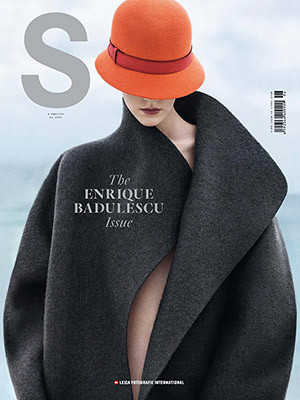 S Magazine Cover
Enrique Badulescu is one of the top fashion photographers. While working for this issue of the S Magazine he has pulled out all his creative stops. In our interview, he explains why good humor and music are an intrinsic part of his work, what organic collaboration means to him, and why he is always enthusiastic to jump in at the deep end.
Your constant flow of creativity stands out; you like to use your craft to expand into new artistic dimensions. For the S Magazine, you picked up scissors and colors and post-processed some series by hand.
Yes, at last I had the leisure and also the time to do that – I love working with my hands! In the case of Elegantly Wasted, I worked with Chinese ink. And this is the process: we made prints of the digital data on transparent photo paper, quasi a plastic film. Then I lay it on a light table, trickling ink on it with a pipette, and lay another plastic sheet on top. Once it was dry it was scanned. I've also used this technique on film. It's exiting to see what comes out of it, it produces effects that you can't control, and that's great.
We agree! You've been working as a photographer since the eighties. How did you come to work for the great labels? Which was your first campaign?
When I got to London I did lots of record covers. Four months later I did PR pictures for the Rolling Stones. I had to pitch to Nick Knight and I won! Then came the first assignments for The Gap. They booked me for my contrasts and my colors. Things got going and the rest is history.
How do you find the appropriate team members for a production? Your agent supports you, but in the end you have to make the decisions.
You have to depend on your gut feeling. Over the years I've built up a group of people with whom I work time and again. Of course, there are always new ones coming along, that was the case for this project. We were very lucky: even though some of us hadn't known each other for long, it turned out great.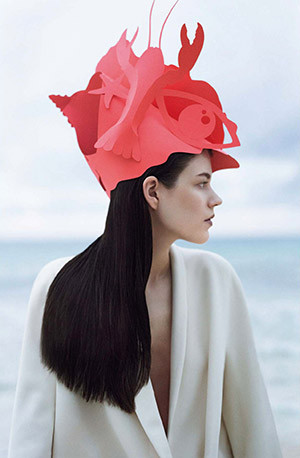 The Adventure
Light, shadows and a lot of water are typical elements in an Enrique production. Where does this come from?
I love the water! As a child I was always magically drawn to pools and, of course, to the sea. A house by the sea was really important for our family. Then, along came the series for Hermès at the beginning of the nineties, when I photographed under water. It went over so well that some of the motifs are still used for advertisements today.
You really dove in deep for the S Magazine, like for the Liquid Poetry series.
We took the pictures in a friend's pool in TriBeCa, a district of New York City. I used a special underwater casing for the camera. Thanks to years of training, I can stay submerged for a full minute, while still keeping my eyes open. That was the challenge for the model as well, but she did a great job. We both went under at the same time, and then you have to release air, otherwise you rise and you can't photograph. And I had to decide on the lenses beforehand. I took the Super-Elmar-S 24mm f/3.5 Asph and Elmarit-S 30mm f/2.8 Asph. Of course, we also needed to ensure the model was wearing waterproof make-up.
What other technical aspects came into play?
The light coming from above! We had to mount cinema spotlights and cables on wooden boards across the pool and take great care with it. Water and electricity – they're known to be a dangerous combination.
Contrasts are another of your trademarks. Can you tell us what other elements are typical for your pictures?
Contrasts – I love contrasts! Not just of light and shadow, dark and light, but above all in colors. My work always has a lot to do with colors, and I also follow a conceptual approach. I do a lot in the water. There's always a lot of movement, but also a lot of softness in the pictures.
Many say that working with you is like being part of a family. How do you ensure good working conditions?
Music, music, and more music. I play everything possible – from reggae to pop, all mixed up. It's great to work with people who are talented and fun. I love to laugh.
Your holiday home, where you work a lot, is in Tulum, on the Caribbean coast of Mexico. Some of the series for this magazine were also taken there. How do you manage to separate your private life from the professional – or don't you?
In fact, I always mix everything up a bit. If you go to take pictures in an atelier or an apartment, it's much better than going to a hotel or a studio. They're much too sterile. When we produce pieces in Tulum, everyone's with me in the sitting room. Everyone gets to know each other – especially when there's also tasty catering. We eat all together and afterwards everyone's in a great mood. That's exactly the mood I need for collaborative work.
»We need to make life more fun, and as a photographer you can actually manage to do so.«
Enrique Badulescu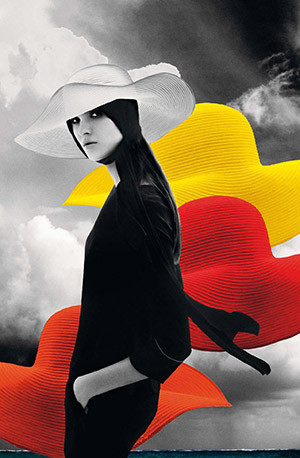 Nouvelle Vague
How did you take the picture with the wave? It looks like you're standing directly in front of it.
I was right in the middle of the wave and, of course, I got wet. I took the picture with a wide angle lens and held the camera just above the surface of the water. The wave wasn't very high, but it looks as though it is.
The Nature Revisited series was also taken in Mexico. Compared to the others, this particular series is very minimal, practically purist.
If you think of Mexico you automatically think of lovely weather; but when we were there to take the pictures it hardly stopped raining. The sky was low and cloudy. It's my style to make things very colorful, but because of the weather it made more sense to go for a purist approach. Simple lines and virtually no shadows.
In contrast, the Nouvelle Vague series has some very beautiful shadows. There are poetic impressions like a film from the seventies, enhanced by a collage.
I always try to bring warmth into the pictures, even if they were photographed digitally. A lot of it is also the result of chance. You can't predict everything, like, for example, how good the shadows of the palm leaves and the reflections on the water will look. I simply photographed my pool in this case. Like the previous one, the series was taken around my house in Tulum. During the photo shoot we cut off a palm frond and experimented with it. Afterwards I discovered that just laying it on top of another picture produced a really nice effect.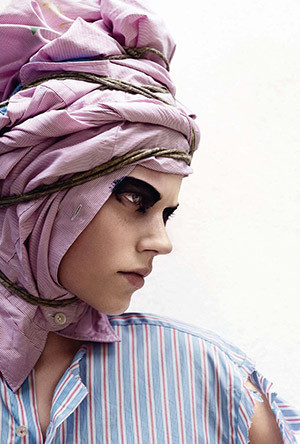 Pirate Warrior
In the Pirate Warrior series with the wrapped up torn shirts, you seem to have restrained yourself photographically speaking. Is that true?
Of course, when you photograph something really arty that bursts with details, the talent lies more with those who have created the motif – in this case it was Antje and Olivier who had a go at the shirts. Even if a five year-old were to take a picture of it, it would look good.
The challenge for the photographer is to bring everything within one frame – like in Color Splash!
That was the most exhausting series. Vicky Steckel is one of my best friends. She normally photographs her creations herself, before everything is washed off again. That's part of her art. Our photo shoot was something new for her. I was the first photographer to take pictures of her work. Afterwards, everything was covered in color ...
It's interesting that every now and then you sprinkle black and white images into your series.
I studied at the »Bayerische Staatslehranstalt für Photographie« where we mostly developed and printed by hand in black and white. Back then all cool magazines, such as The Face or iD, were in black and white. When you look at them, it's like you're looking at an Antonioni film. Black and white is beautifully poetic. Color only came later with cross processing, that's what gave color the push. At the time, in other words in the mid eighties, I was in London and also began experimenting with this technology, with this stylistic means. In the city they began to say,»the colorful Mexican has brought color to London«. Since then they only ever want color. This time I also had the chance to present some now rare black and white. I think it's a lovely contrast. Together with other stylistic means that I've used, I want to interrupt the colorfulness that has become the norm.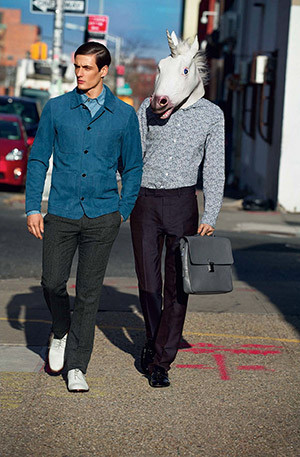 Catch Me If You Can
The scissor cut elements that appear from time to time are also very special.
We did those in post-production. I have a weakness for collages. At home in New York I spend hours sitting on the floor with my seven year-old daughter, Fernanda, being creative with scissors and glue.
In Catch Me If You Can, you can see the influence of Saul Leiter.
We photographed that in New York, and it's true with some of the pictures. I had given Antje a photo book of his and somehow it seems to have filtered in. But then we just experimented with the animal masks, music instruments and brief cases. On the day we took the pictures, it was cold and we had an unusually beautiful light. You can do anything with such a light. I think Saul Leiter is great and I like references; but I photograph completely freely, and so some things simply happen.
What are your hopes and visions for photography?
It should be more spontaneous, free and fun, just like the work for this S Magazine. If you watch the news, everything is very serious. We need to make life more fun, and as a photographer you can actually manage to do so.


Buy the »The Enrique Badulescu Issue« in the LFI Shop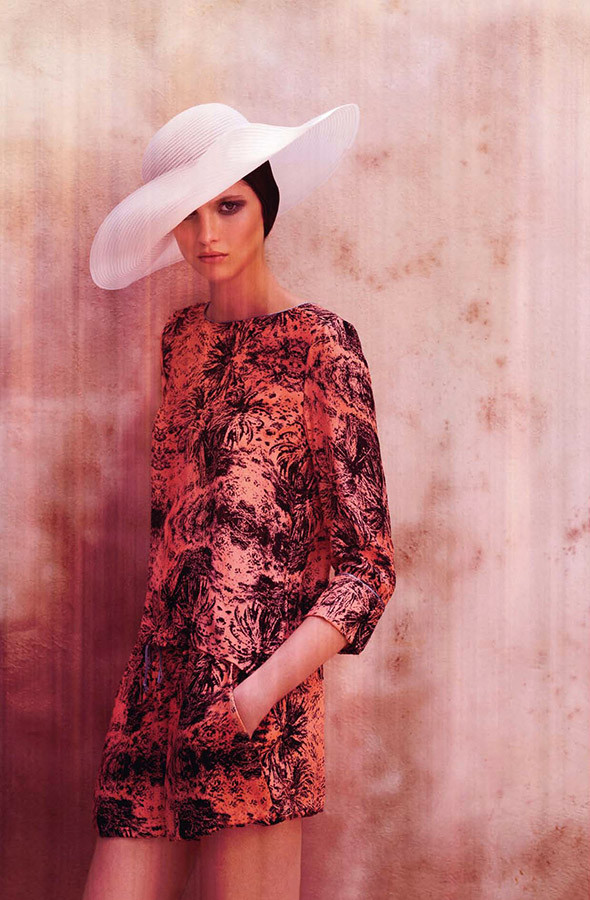 Nouvelle Vague – photography by Enrique Badulescu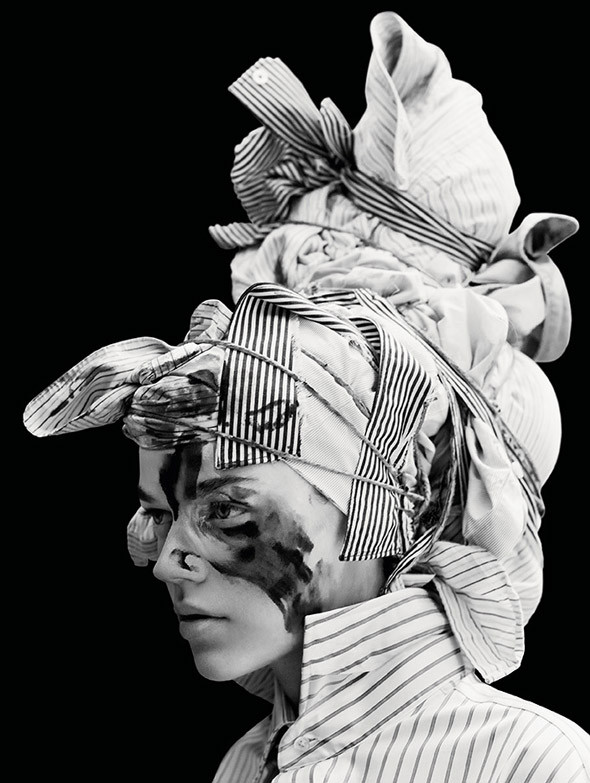 Pirate Warrior  – photography by Enrique Badulescu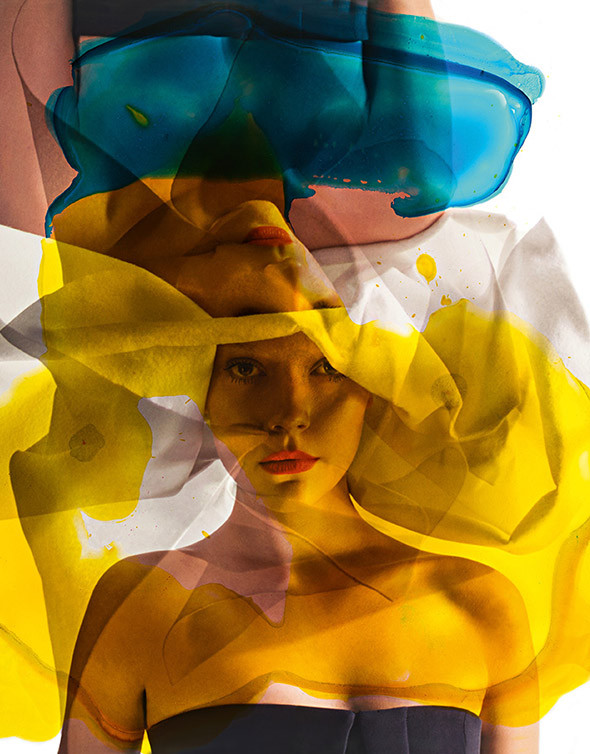 Elegantly Wasted – photography by Enrique Badulescu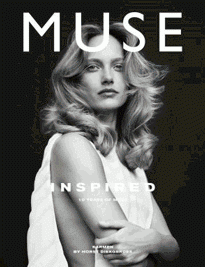 INTERVIEW
Fabio Crovi / Muse Magazine
This month the magnificent MUSE Magazine, Italy's very first independent fashion magazine, celebrates its 10th birthday with a special anniversary issue. On this occasion we had a chat with the creative mind behind it all, Fabio Crovi, about ten exciting years and what the future might hold.
READ MORE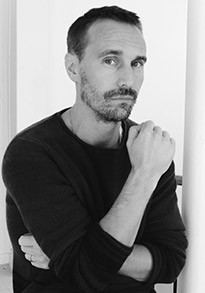 INTERVIEW
Johan Sandberg
Interview with swedish portrait and fashion photographer Johan Sandberg, who has had some of the world's biggest superstars in front of his lens, opens up about his debut short movie, the celebrity circus and still getting star-struck from time to time.
READ MORE