London has for the first time ever hosted a major international photography fair and Previiew was there to take a look at its much-awaited inaugural edition located at the beautiful Somerset House, the very building where the term photography was first coined. Here are our seven favorite moments from Photo London 2015.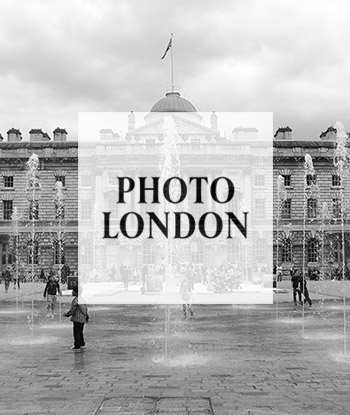 Photo London 2015
Although London is without a doubt a cultural capital and home to countless galleries and museums, it hasn't really been on the map when it comes to photography. Newly launched

Photo London

, which took over four floors of the beautiful Somerset House overlooking the Thames from 21 to 24 May, is aimed at changing exactly that; positioning itself as a serious rival for what so far has been considered the major photography fair on this side of the Atlantic:

Paris Photo

.

Even if it still has some catching up to do size-wise, it definitely fulfilled its ambitions in terms of quality and content and, tellingly, almost all the big players were present: from

James Hyman

to

Howard Greenberg

. There was a sense of excitement and enthusiasm in the air that could also be felt in the rest of the city with photography events from talks and exhibitions to publishing fairs and auctions popping up all over the place.

Somerset House provided a stunning backdrop and welcome change as a setting for such an event, moving away from the usual supermarket set-up by creating a museum-like feel with almost all of the approximately 70 galleries occupying their very own rooms. Photographs were squeezed into every nook and cranny of the neo-classical building including corridors and even the courtyard where German artist

Rut Blees Luxemburg

intrigued with her outdoor installation »The Teaser«.

Galleries young and old from 20 different countries made for an electrifying mix of aged vintage prints, iconic pop culture images and fresh talent. We meandered through this breathtaking maze to bring you a handpicked selection of our seven favorite Photo London moments. Enjoy.
I
Rankin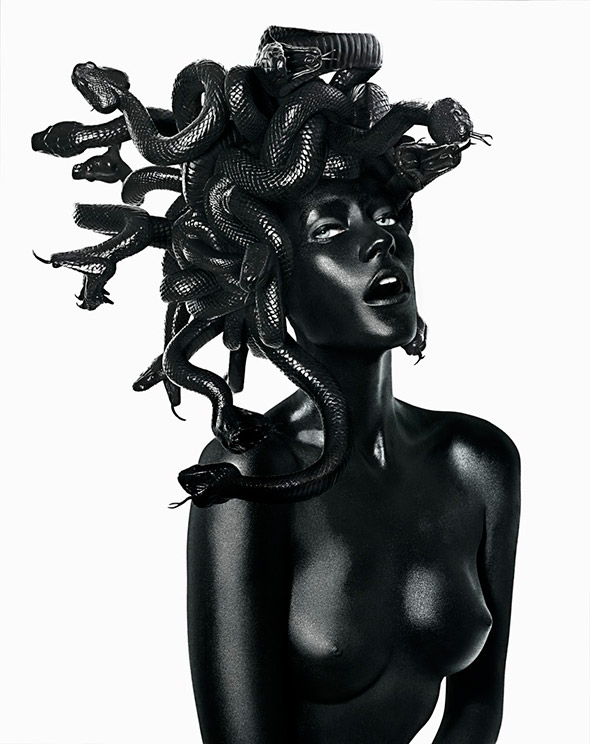 »Myths, Monsters and Legends« by Rankin and Damien Hirst (2011)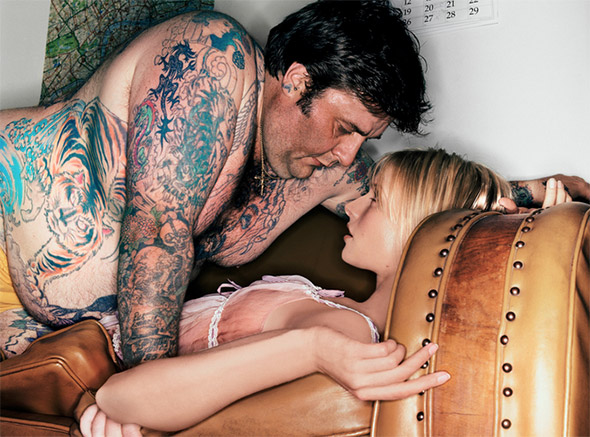 Rankin, Underbelly (2000)
British photographer John Rankin Waddell, known simply as

Rankin

, has become a household name in fashion and portrait photography over the years, having aimed his lens at everyone from Kate Moss and David Bowie to Tony Blair and even the Queen. He not only made a name for himself shooting and befriending the stars of the 90s, but is also a big hitter in the publishing world as one of the creative minds behind the legendary Dazed & Confused and more recently AnOther and Hunger Magazine. The fact that Rankin wasn't represented by a gallery but had his own booth speaks for itself.

Although the Glasgow native is often considered a mere celebrity photographer, his eclectic, playful and innovative oeuvre offers so much more and at Photo London visitors got the chance to discover exactly that. Focusing less on his portraits and more on fashion and art, Rankin's booth gave a captivating glimpse into his vast range of work, showcasing such magnetic pieces as a shot from his collaboration with

Damien Hirst

in 2011, for example. A photograph from his Highly Flammable series from 1997 was also featured, the one he picked for The Guardian's column on best shots. It pictures life-size cutouts set on fire in the middle of the street. »It was at a time when we didn't really care about health and safety. The photo is a bit of a dig at fashion; the shallowness and emptiness of the industry, which can take itself far too seriously«, he says.
II
Daisuke Yokota, G/P Gallery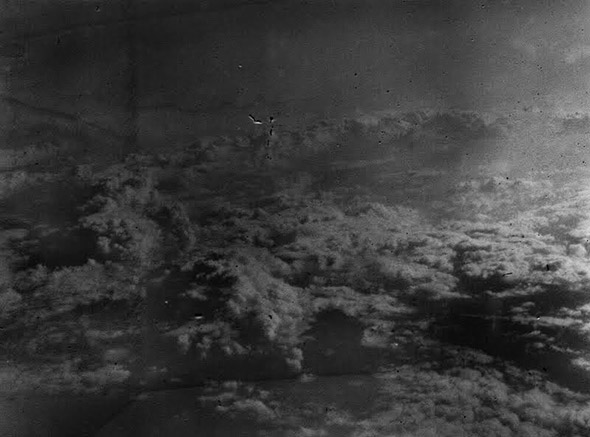 Untitled from the series Vertigo (2013)
Photo London's discovery section championing young galleries and emerging talents made for one of the most fresh and exciting parts of the fair. With the introduction of the John Kobal residency award, the organizers reinforced their determination to support lesser-known up-and-comers even more. This year's winner, Japanese rising star

Daisuke Yokota

with a penchant for the experimental especially caught our eye with his colorful, cascade-like installation, an unexpected, genre-stretching piece made out of thick photo paper. A selection of his somber and textured monochrome studies was also on show; the stunning results of multiple rephotographing and reprinting exercises. As if this wasn't enough, Yokota is also known for his photobook-making performances, which were a total crowd pleaser at the parallel Offprint publishing fair in the Tate Modern's turbine hall. One to watch!
III
Mitch Epstein, Thomas Zander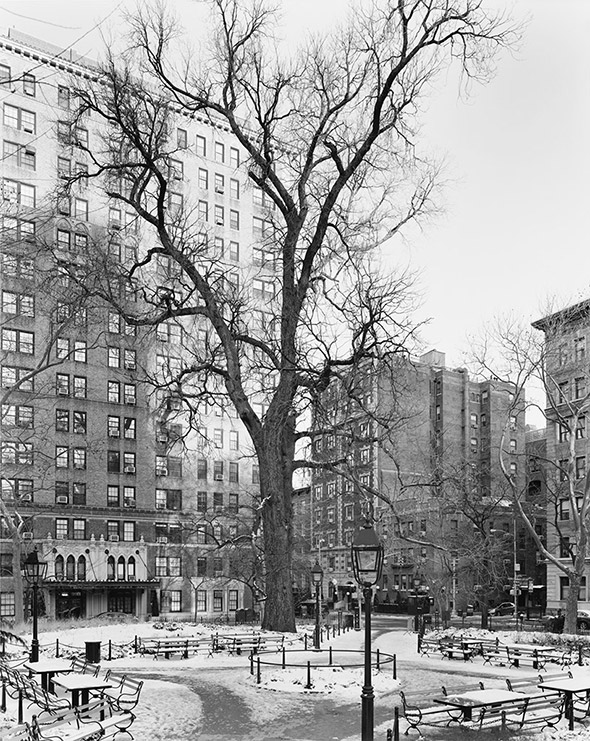 »New York Arbor« by Mitch Epstein (2012)
Galerie Thomas Zander's impressive display of

Mitch Epstein's

»New York Arbor« series had an undeniable wow-factor. To see the full set of 40 black and white photographs assembled on one single wall in one of the largest and most beautiful rooms of Somerset House was a feast for the eyes. The American photographer, whose compelling works are part of museum collections from MoMA to Paul Getty, explored the five boroughs of his home base New York in search of noteworthy trees during 2011 and 2012. »New York Arbor« takes you on a wonderful trip through this urban landscape, inviting you to rediscover one of the world's major metropolises from a different perspective, showing how nature can thrive in an environment of steel and concrete.
IV
Martin Schoeller, Camera Work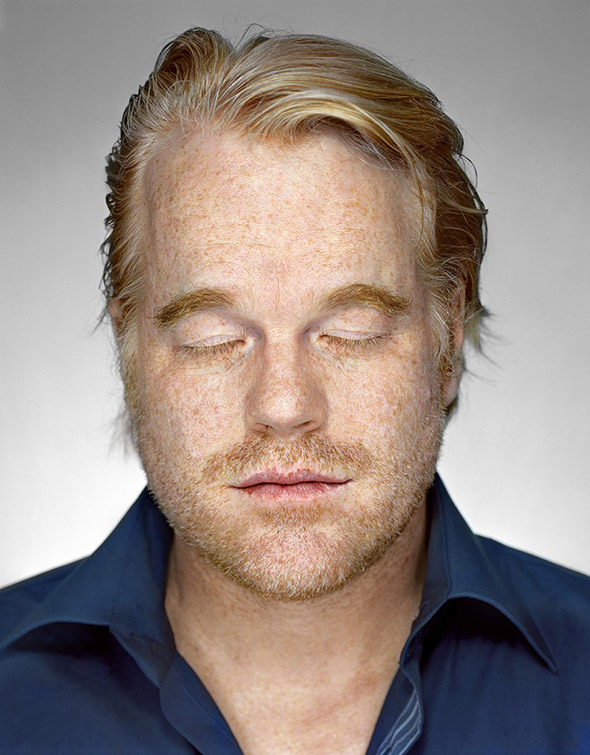 Philip Seymour Hoffman by Martin Schoeller (2003)
German photographer

Martin Schoeller

doesn't need much introduction. His well-known portraits of celebrities, always shot in his recognizable, close-up signature style, have graced the covers of famous magazines from TIME to Rolling Stone. At Photo London, Berlin gallery Camera Work impressed with large-scale, powerful prints of Iggy Pop, Geoffrey Rush, and Philip Seymour Hoffman. The latter, which remarkably shows him with his eyes closed, was shot in 2003, 11 years before his unfortunate passing, and had quite a haunting quality to it. Incidentally, it was a shot from the same series that made the cover of Rolling Stone shortly after his death. »I was set up in a hotel room with my 8×10 studio setup and he was having a hard time keeping his eyes open. I finally said, 'Ah, let's do a few with your eyes closed'«, Schoeller once said in an interview. What is it that makes his portraits so gripping and captivating? Undoubtedly the extreme close-up technique that gives the viewer the opportunity to study a face in its every detail deeply, creating the illusion that you might really be getting to know the person behind the image.
V
Jean Francois Lepage, Ravestijn Gallery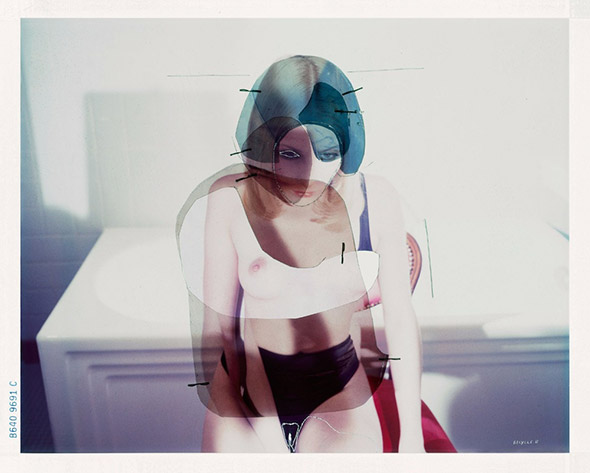 Recycle series – Prelude by Jean Francois Lepage (2014)
Amsterdam's Ravestijn Gallery turned heads with a selection of evocative works from

Jean Francois Lepage's

boundary-pushing Recycle series, which interestingly is based on his very own images stemming from his long career as a fashion photographer. After having shot supermodels from Gisele Bündchen to Naomi Campbell, the French artist took a decade-long break from the fashion circus focusing on other artistic practices. It was during that time that he revisited a number of older photographs he had taken in the 90s, reworking them into the dreamy, surreal and multi-layered cut-ups on show at Photo London.
VI
Gerard Malanga, Caroline Smulders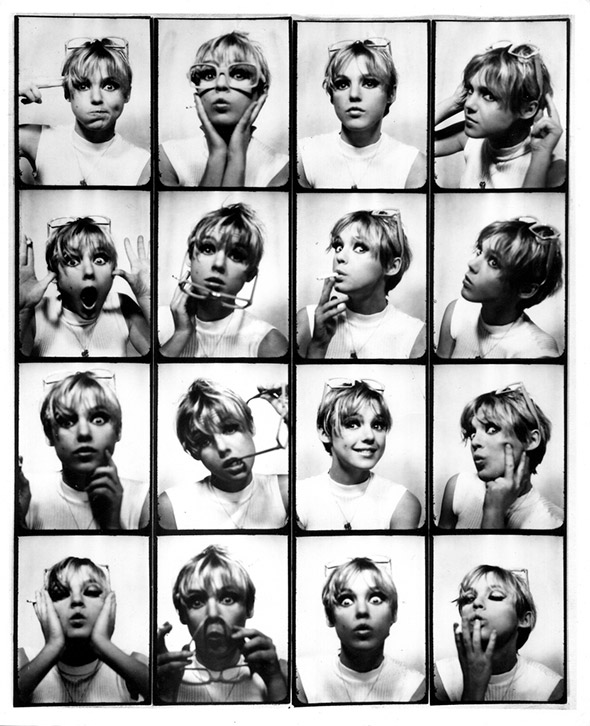 Edie Photo Booth, Gerard Malanga (1966)
The New York Times once labeled

Gerard Malanga

as »Warhol's most important associate«. Accordingly, his intimate black and white images predominantly feature the iconic artist himself, as well as everyone visiting Warhol's legendary studio The Factory. As the artist's long-term assistant, the New York native, a poet, filmmaker and photographer, had unequalled access to an exclusive circle of artists and celebrities. At Photo London, Caroline Smulders gallery displayed a captivating collection of Malanga's vintage and contemporary photos in one place, including a rare Photomaton multi-portrait of Edie Sedgwick taken in 1966. Walking into Caroline Smulders' expo room felt a little like a voyeuristic trip down memory lane, diving into the mythical Warhol universe featuring some of today's most iconic artists from Robert Mapplethorpe to Patti Smith in somewhat personal moments.
VII
Anja Niemi, The Little Black Gallery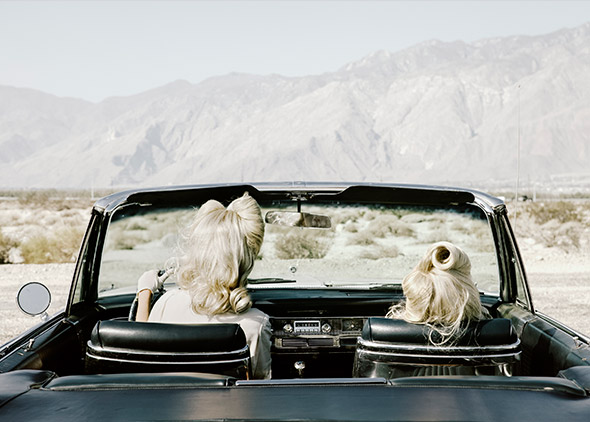 Darlene & Me, Anja Niemi
London's Little Black Gallery dedicated a significant amount of room to Norwegian photographer

Anja Niemi

, and rightly so, we found. The images displayed all originate from her alluring »Darlene & Me« series, a carefully staged, cinematic exploration of the oftentimes paradox relationship we have with ourselves. Taking on the roles of photographer, subject and director all at the same time, Niemi, who made it into Art Review's Future Greats a little while ago, always keeps absolute control of her images. The idea of »Darlene & Me« was inspired by an old suitcase she stumbled upon, which apparently had belonged to a beauty counselor whose only sales had been made to herself. Niemi took this as a starting point and moved into an isolated house in the Californian desert to examine this fictional character closer. The outcome is this series of highly stylized and beautiful, yet slightly haunting photographs telling a woman's complicated relationship with herself.


By Sarah Shug