New York's impressive architecture, diverse city life and vibrant creative culture have been a favorite subject for photographers for decades. And for those who want to make photography their career, it's still the city to be in: The number of advertising and modeling agencies, magazines, newspapers, and galleries is immense. Where do you sleep, eat and shop in the world's photography capital when you're a fan of the genre? Look no further.
I
Danziger gallery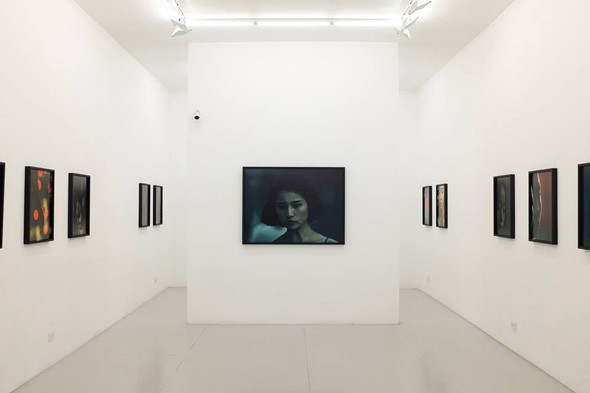 Considered to be one of the leading photography venues in the world, the Danziger gallery was founded in 1990 by James Danziger, a former photojournalist and editor. For more than a decade, he immersed himself in the photography world through jobs at London's Sunday Times and later Vanity Fair in New York, allowing him to build close relationships with major figures of the genre. With this kind of experience under his belt, it's no wonder that the Danziger gallery was here to stay. First located in SoHo in the 90s, it now occupies a sleek, white cube space in the Lower East Side. The gallery's roster includes legendary 20th century photographers such as Robert Frank, but also new, experimental artists such as up-and-coming Liz Nielsen. Currently on show: Portraits, landscapes and still lifes by German-born Evelyn Hofer, shining a light on the influential work of a woman often dubbed »the most famous unknown photographer in America.«

Danziger Gallery, 980 Madison Ave Unit 301, New York, NY 10075
II
Dashwood Books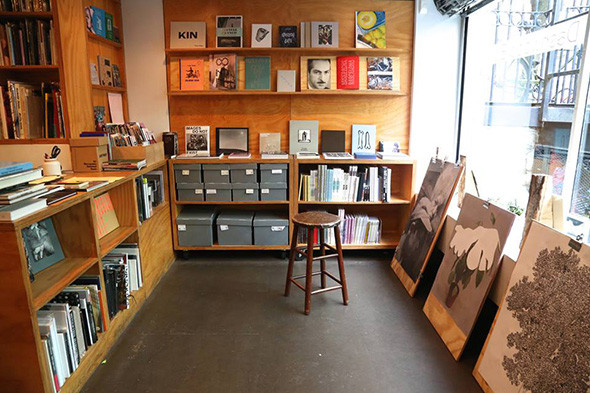 It's hard to believe in a city the size of New York, but Dashwood Books is the only shop in the entire city that only sells photo books. Opened in 2005 by David Strettell, Mario Testino's former assistant and the cultural director of Magnum Photos, it has evolved into an important insider source and point of discovery for contemporary international photography. Dashwood's carefully curated selection includes everything from rare collector's editions to self-published titles. This photography treasure trove is also a popular spot for book releases, signings, and talks.

Dashwood Books, 33 Bond St A, New York, NY 10012
III
Happy Bones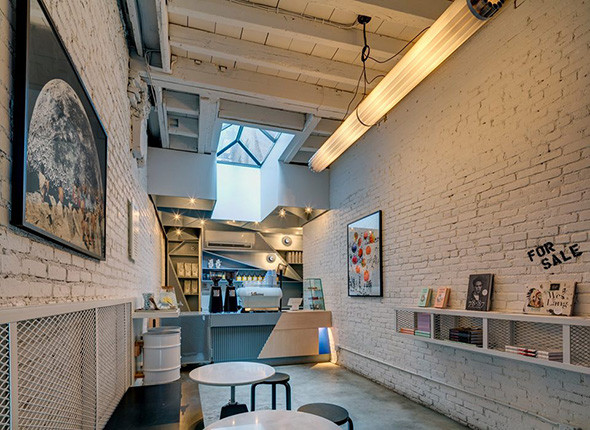 If you want to enjoy a delicious coffee in a creative, inspiring environment, then Happy Bones is the place for you. This uber-stylish, minimalist café, founded by a bunch of New Zealanders who are passionate about both coffee and art, not only brings you great coffee from sustainable sources but also photo books, interesting publications from all over the world, and exhibitions featuring local photographers and artists.  And if that wasn't enough, Happy Bones regularly donates a percentage of its profits to Free Arts NYC, an organization bringing arts programs to underserved children and families.

Happy Bones, 394 Broome St, New York, NY 10013
IV
The Quin Hotel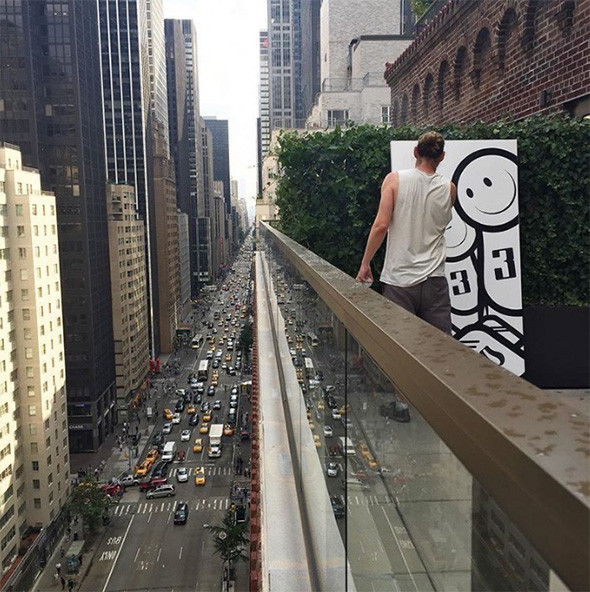 Art and photography fans will love staying here, and not only because former guests include Georgia O'Keeffe and Marc Chagall. The luxurious Quin Hotel, located two blocks south of Central Park, not only runs a lodging business but also a well-curated arts program including exhibitions, lectures, concerts, and even an art residency. Art and often photography is displayed throughout the hotel, in the lobby as well as in the guest rooms, making for a unique and inspiring hotel experience. Recent exhibitions include "Strength Africa" by Dutch photographer Anne Barlinckhoff, "Time In-Between" by American photojournalist Hilary Swift, and works by Danish photographer Søren Solkær, to name just a few.

The Quin Central Park by Hilton Club, 101 W 57th St, New York, NY 10019
V
International Center of Photography Museum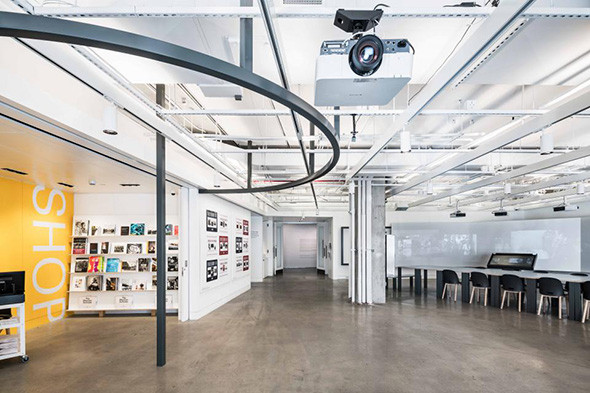 New York's ICP, founded in 1974, consists of a photography school, museum, library, and a large media lab and collection archive. The museum of photography and visual culture along with its welcoming café and well-stocked shop, located at 250 Bowery, is always worth a visit. Its programs and exhibitions are dedicated to the practice and understanding of photography and the reproduced image in all its forms as well as providing an open forum for dialogue on the role images play in our culture. Currently on view: A fascinating show examining the portrait genre and how photography shapes our perception of ourselves and others, from 19th century daguerreotypes and studio portraits to 21st century selfies and FBI wanted posters. Besides exhibitions, the ICP also hosts photo book fests, artist talks and much more, so make sure to check its varied program when you're in town.

International Center of Photography Museum, 250 Bowery, NY 10012
VI
B&H Photo Video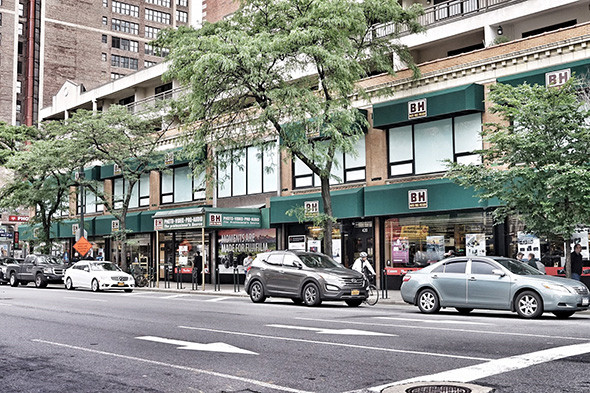 Everything is bigger and better in New York – isn't that what they say? And so of course, the Big Apple is home to the largest independent camera store in the entire country, the photography gear Mecca for anyone working in the field. Since husband and wife Blimie and Herman Schreiber (B&H are their initials) opened it as a small family shop in the Tribeca neighborhood in 1973, it has grown into a three-story megastore and major reference in the industry. Photography pros rave about the extremely well trained staff: Each employee goes through special training before starting work on the shop floor and the emphasis is very much on professional and specialty photographic equipment. B&H carries everything from cameras, dark room equipment and lighting kits to memory cards, lens filters and drones. While you're there, be sure to check out its second-hand department, which might even include gems such as historic Hasselblads.

B&H Photo Video, 420 9th Ave, New York, NY 10001
VII
Katz's Delicatessen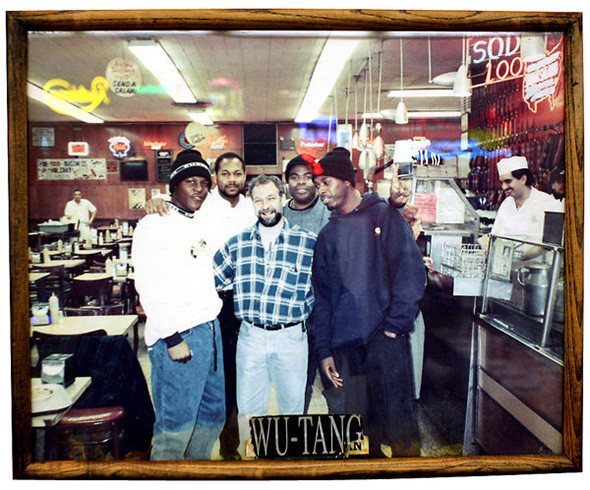 Celebrity snapshots at restaurants and cafés have turned into a veritable subgenre in their own right in New York. It's almost impossible to imagine the city's restaurant culture without the immense photo walls featuring the stars and starlets that have dined there. The legendary Katz Deli, famed for its pastrami sandwich as well as a cult scene from the movie "When Harry Met Sally", is a great spot to witness this special New York tradition. More than 750 snapshots grace the walls here, featuring Bill Clinton, Leonardo DiCaprio, and so many others. Kevin Albinder, one of the deli's managers and a photographer and musician on the side, has been working at the joint since his teenage years and started capturing its famous guests on film back in the 80s.

Katz's Delicatessen, 205 E Houston St, New York, NY 10002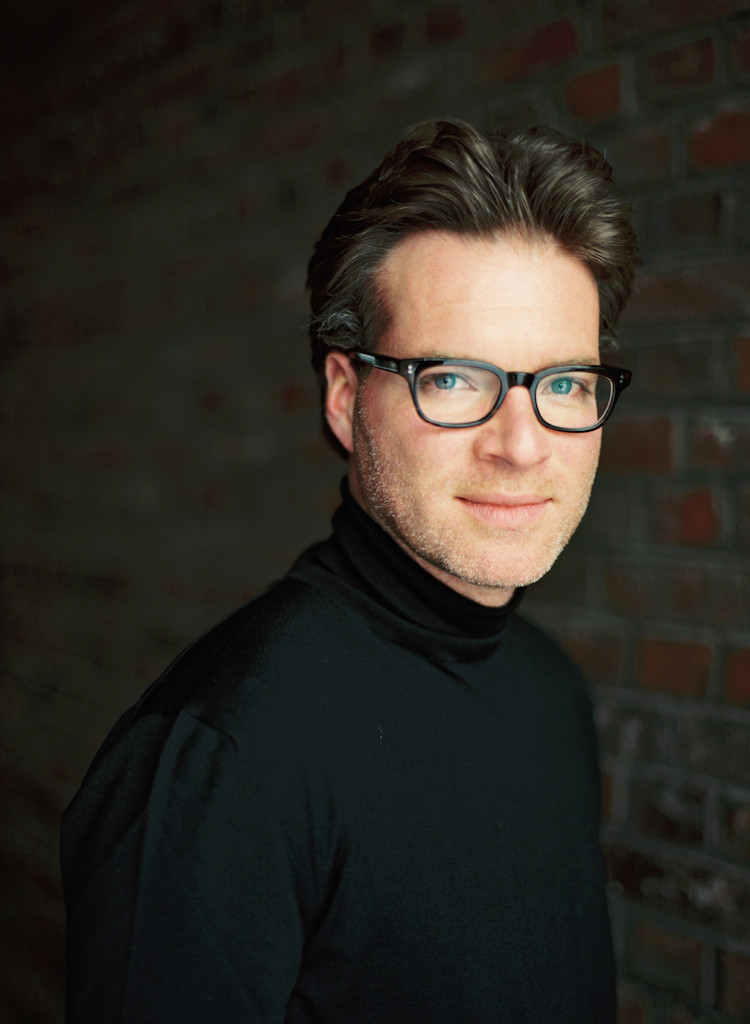 Interview
Robert Morat
A look behind the scenes of running a gallery specialized in contemporary photography with experienced gallerist Robert Morat.
READ MORE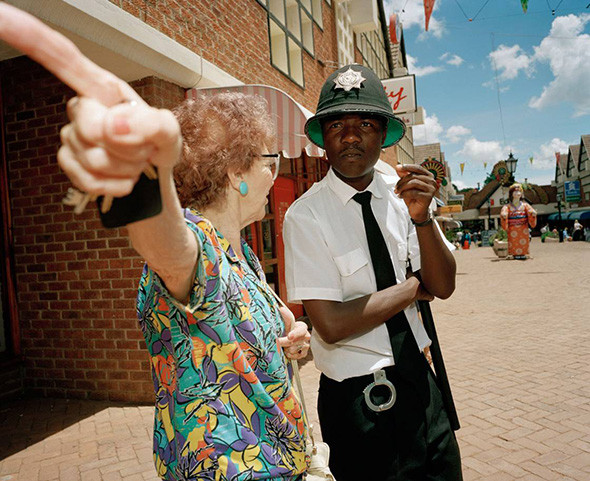 ART SEASON
Photography 2019: The year ahead
Fairs, exhibitions, festivals: 2019 has a multitude of quality photography events in store. We've scouted the varied program and picked the 7 highlights you really shouldn't miss, from Paris to New York. Get these in your calendars!
READ MORE