Joachim Baldauf: Photographs + The Wallpaper* Years
3 min read
question:
PREVIIEW
answer:
JOACHIM BALDAUF
We asked Joachim Baldauf to present his seven favorite photos from his new book: Joachim Baldauf: Photographs + The Wallpaper* Years.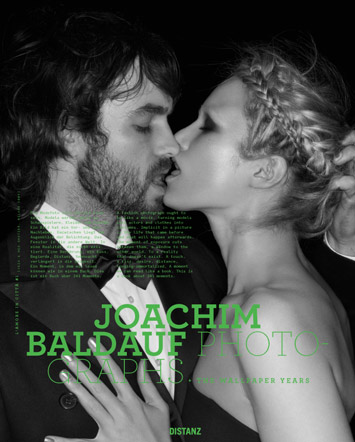 Joachim Baldauf: Photographs + The Wallpaper* Years
The German photographer

Joachim Baldauf

(b. in the Allgäu, 1965; lives in Berlin, works internationally) creates pictures of captivating clarity and subtle irony. They are more than just photographs or fashion shots, more than just youth culture or lifestyle. Due to Baldauf's very personal approach, his pictures always present the human subject as an individual. Baldauf is the unchallenged number one among Germany's fashion and portrait photographers and an influential leader in matters of style; his work has appeared in all renowned magazines.

After studying textile design with a focus on photography and fashion illustration, Baldauf worked as a freelance art director for several years before devoting himself to photography full-time. He now also publishes the magazine

Vorn

and teaches. He has received numerous awards, including "Cover of the Year," the "Lead Award," the "Art Directors Club Award," and the "Distinctive Merit Award."

This book is the first monograph on Joachim Baldauf's work. The artist presents his best photographs and a selection of works for the London-based magazine

Wallpaper

, whose look he helped define between 1999 and 2002.

Includes essays by Tyler Brûlé, the founder and former editorial director of Wallpaper and present editor-in-chief of

Monocle

; Ariel Childs, the former photo editor at Wallpaper; and Tillmann Prüfer, an editor at

Die Zeit

and the style director at Zeit Magazin. With a preface by Uta Grosenick, publisher,

Distanz Verlag

.

We asked Joachim to present his seven favorite photos from the book. For those who want to find out more, you can order the book from

Distanz Publishing

.
Photo I
Villa Fornasetti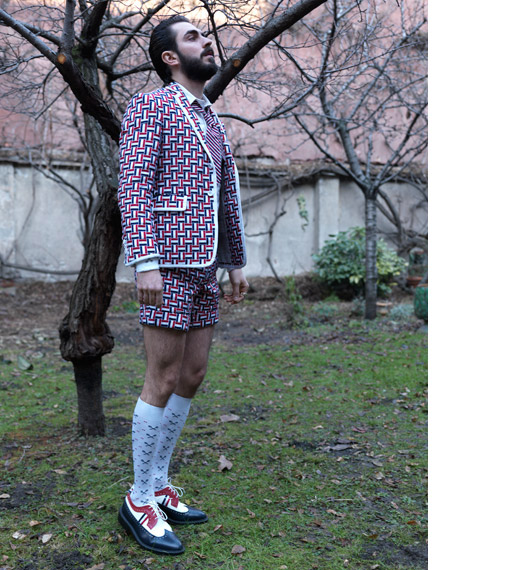 Villa Fornasetti #5, Aeneas Kolev, Milano 2009
»A photo should tell a story or ask questions. This surreal image of Aeneas Kolev in the garden of Villa Fornasetti does both. Why is he dressed like that? What is he doing? What is the story behind this image? The answer is yours.«
Photo II
Behind The Mirror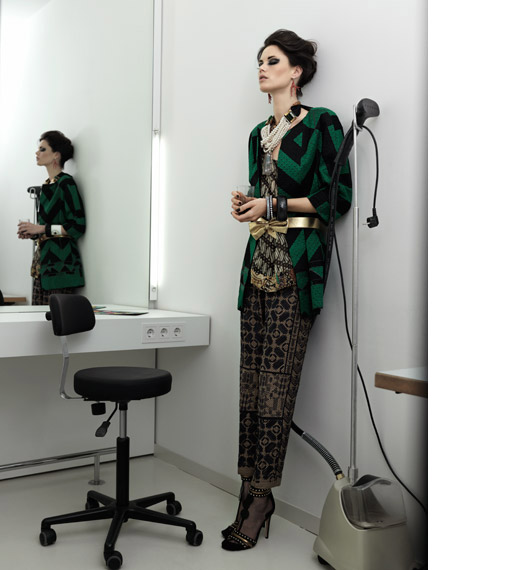 Behind The Mirror #1, Diana Gaertner, Berlin 2009
»There are moments during a shooting when a model just needs a break. This image shows that situation. Outside that little box room there is still hustle and bustle, but "behind the mirror" there is a different situation. This photo is a metaphor for a model's life.«
Photo III
West To East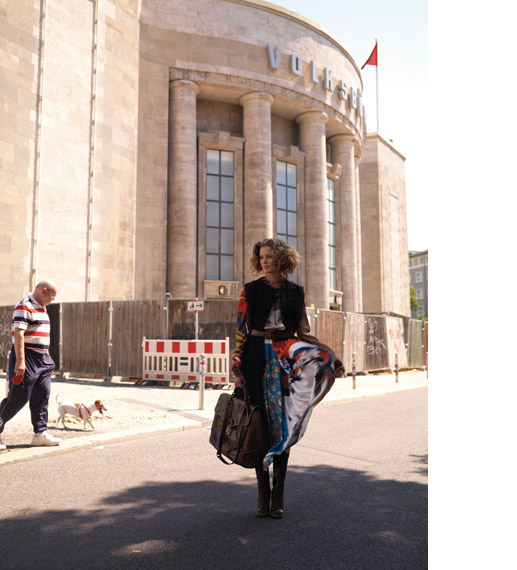 West To East #3, Charlott Cordes, Berlin 2008
»This image was shot in Berlin Mitte, the former center of East Berlin. It is part of a series where someone is always walking or driving from left to right, from west to east. The model is not affected by the situation going on behind her, as fashion photography seems not to be affected by real life.
«
Photo IV
Swept Off His Feet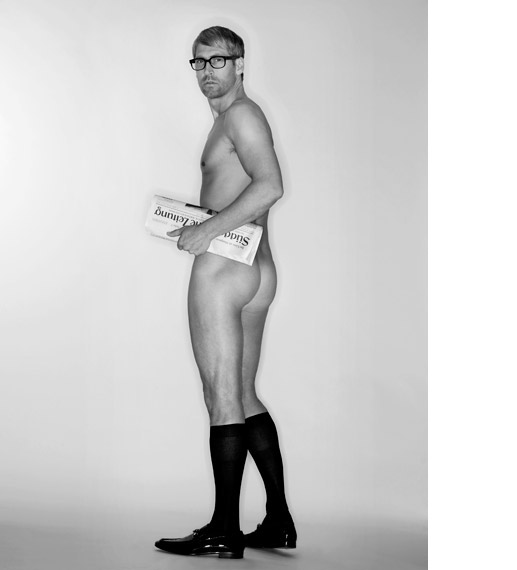 Swept Off His Feet #1, Anton Nilsson, Hamburg 2006
»If the supplement of a German newspaper asked you to do an editorial image for the comeback of knee socks, what would you do? I decided to shoot Anton Nilsson with just socks, shoes, glasses, and an issue of Süddeutsche Zeitung, which commissioned the shoot.«
Photo V
Naked Bunch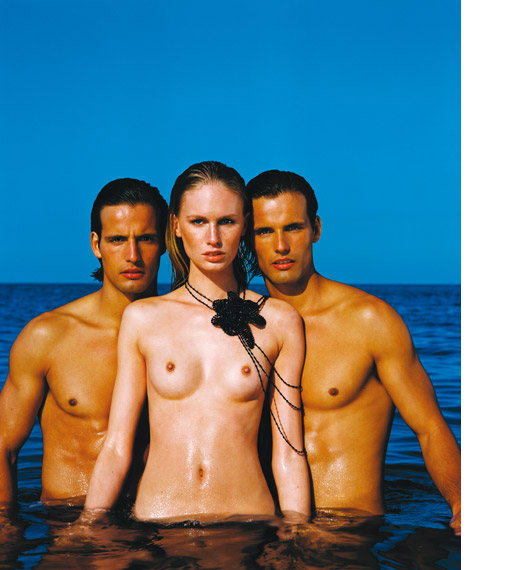 Naked Bunch #1, Tove Gronwald, Pedro & Ricardo Guedes, Côte d'Azur 2001
»The Guedes twins and beautiful Tove Gronvald bare all on the cover of Wallpaper* magazine in 2001. Wallaper* had to print a second cover version for some countries with typography over her breasts. That's sad, isn't it?«
Photo VI
The Dish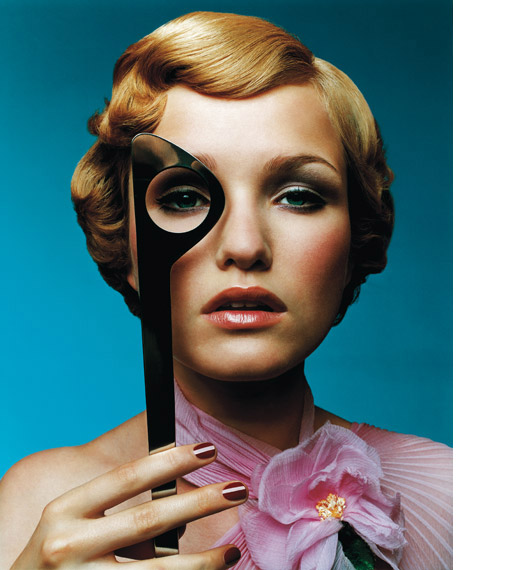 The Dish #1, Veza, London 2000
»We all know that Arne Jacobsen salad servers look great in the kitchen, but in 2000 they were used as a monocle on the cover of Wallpaper* magazine. Stunning Veza takes the presentation of kitchen accessories to a new dimension.«
Photo VII
The Nun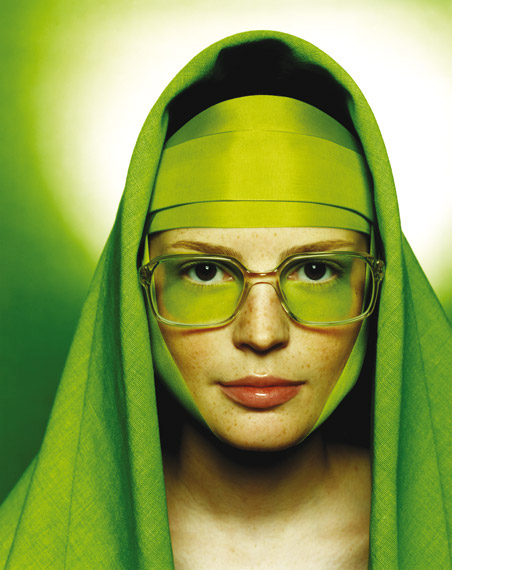 The Nun #2, Sarah Schulze, Hamburg 1999
»What to do when you have to show green eye shadow in a new way? Just think who would never wear green eye shadow. Sarah Schulze would of course, but being a nun was never her plan.«