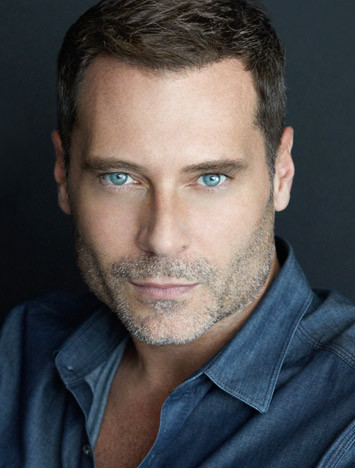 Greg Lotus
Being Greg Lotus means traveling a lot. Reaching the 1967-born photographer for an interview, therefore, is kind of a coup. Lotus has regularly shot very classy pictures for Vogue Italia. He has also worked for Vanity Fair and W as well as doing commercial campaigns for Cartier, Levi's and Escada. He is based in both Miami and New York. In the last few years Lotus has been doing more fine art work and recently exhibited at Art Basel in Miami Beach.
»I've been in this business for a long time and in recent years buyers began approaching me asking if I would sell my work. When galleries and art vendors followed with the same type of request, I understood that this was the natural next step for me.«
Greg Lotus' fine art pictures are very graphic. He says he draws inspiration from classical paintings and geometric forms. Shadow and light also play a very important role, as well as angles and straight composition. Black and white photography, therefore, seems to be a logical consequence. It is also somewhat reminiscent of Man Ray and Richard Avedon with the latter serving as Lotus' role model in terms of his timeless and elegant style.
»Initially, I did black and white because I was catering to a smaller audience. But as my work got more exposure and became known to a wider circle, I started receiving many requests for my color photography as well, and not just the more desaturated images but also the vivid ones. The last exhibit I did for Art Basel, which is still being shown in Miami, contains color and black and white images in equal measure.«
It was 20 years ago that Greg Lotus started his career as a photographer. His first engagement was for a bridal magazine. In contrast to most other acknowledged fashion photographers, Lotus didn't have professional training, nor was he educated at art school. He has also never assisted:
»I'm completely self-taught, lots of trial and error over the years. Nothing beats practice. After I started taking pictures in Seattle, mostly for models' portfolios, I eventually ended up in Miami and began my career.«
Years before all this happened Greg Lotus lived a simple kind of life in the countryside of West Virginia and this influence can still be seen in his photography where he often mixes high fashion with rural or wild surroundings.
»When I was a kid, I spent most of my time immersed in nature. My closest neighbor lived 12 miles away, the school bus stop required a two-mile trek, and I had a baby deer for a pet.«
What sounds rather humble didn't last forever. A trip to New York with his school class changed things dramatically. The blue-eyed Lotus was scouted as a model by Eileen Ford of Ford Models – a job he never really enjoyed - but that's also how Greg Lotus started his career as a photographer: He used to shoot test shots for roommate models in his early twenties.
next
prev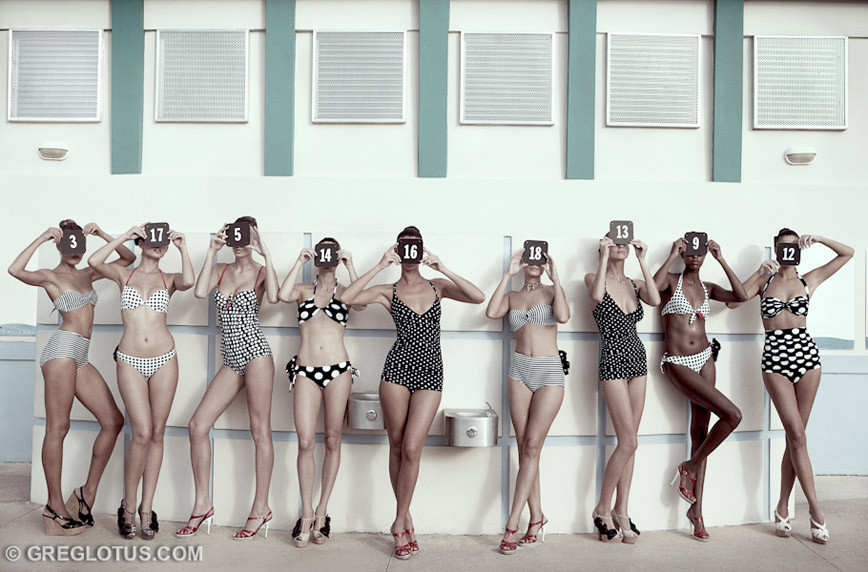 01/10 - »NUMBER FACE«, 40"x60", Italia Vogue 2010, Limited Edition of 25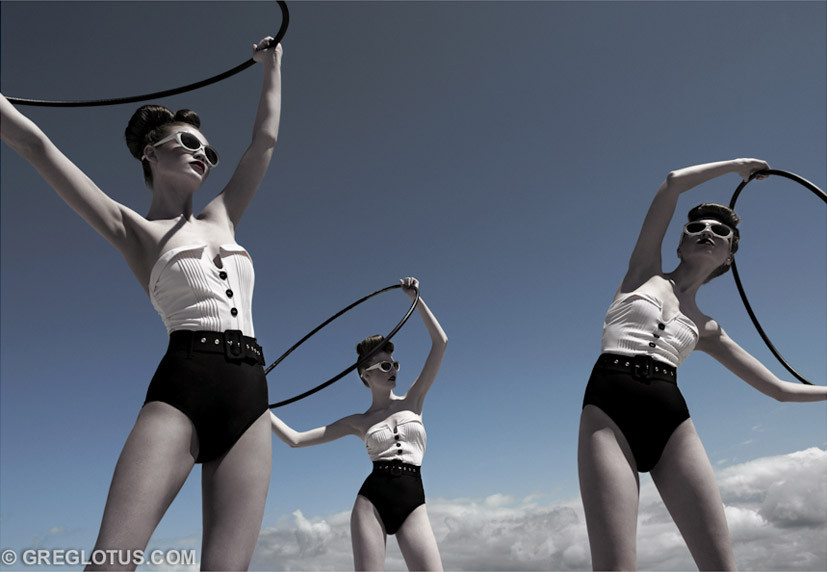 02/10 - »BLUE HULA HOOP« 40"x60", Italian Vogue, 2009, Limited edition of 25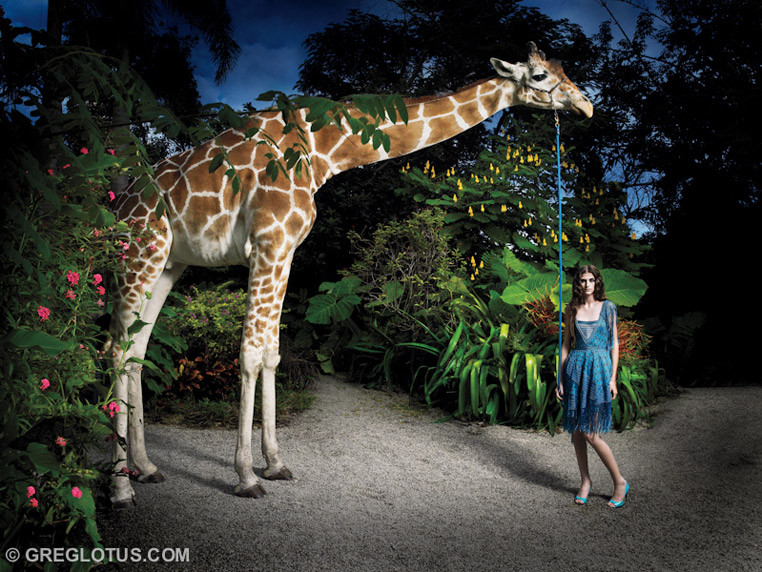 03/10 - »GIRAFFE« 40"x53", Italian Vogue, 2007, Limited edition of 20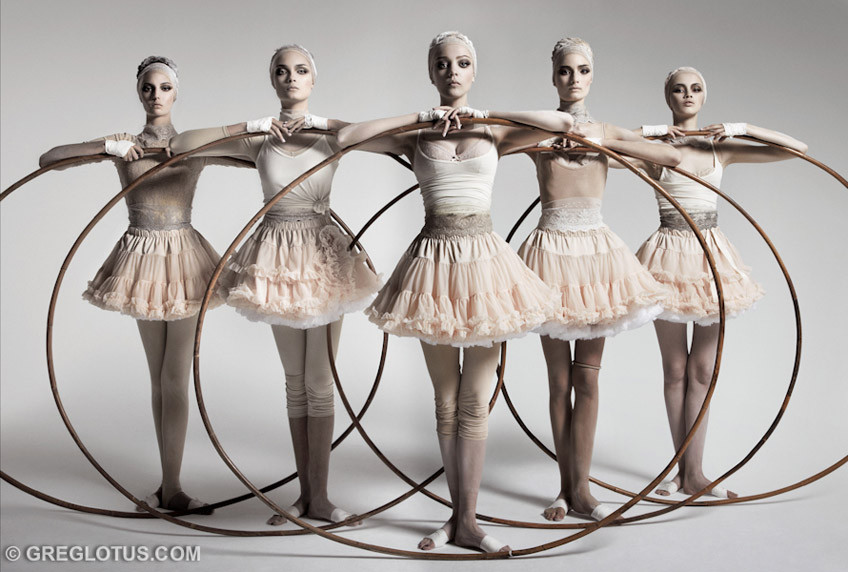 04/10 - »HOOP BALLET« 40"x60", Italian Vogue, 2010, Limited edition of 25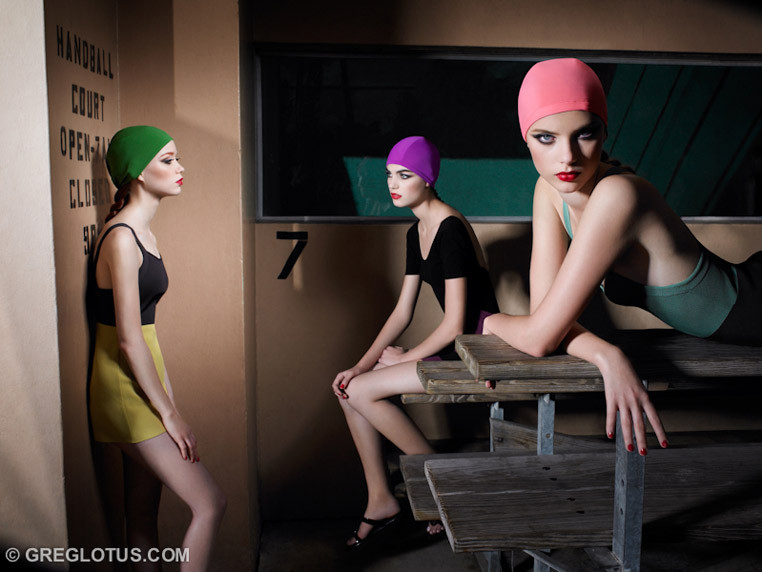 05/10 - »SWIMMER CAP« 45"x60", Italian Vogue, 2007, Limited edition of 25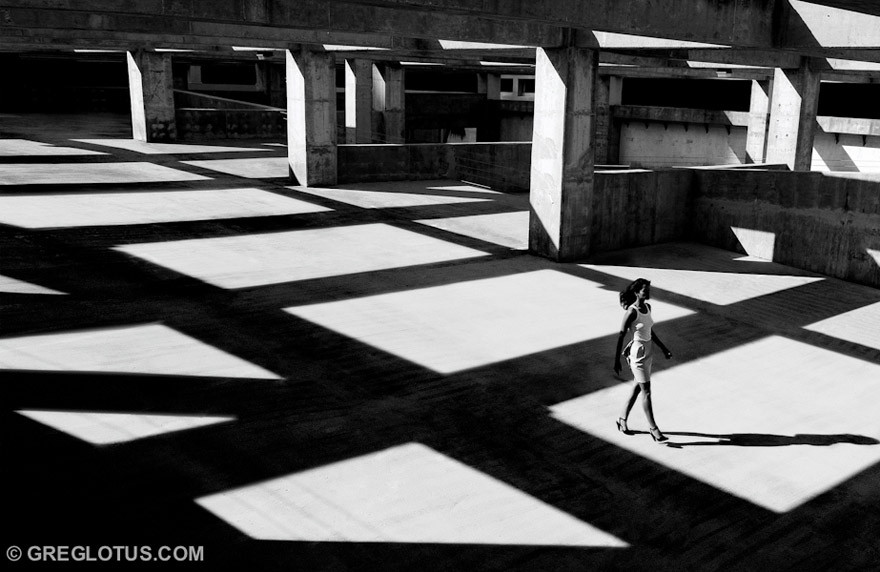 06/10 - »PARKING GARAGE« 50"x76", Russian Vogue, 2005, Limited edition of 10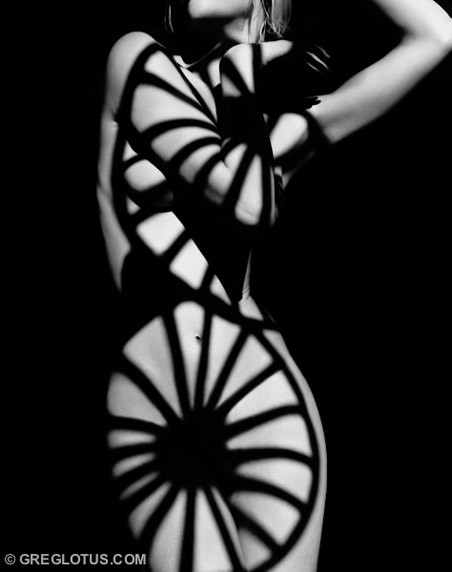 07/10 - »WAGON WHEEL« 40"x60", Ten, 2005, Limited edition of 10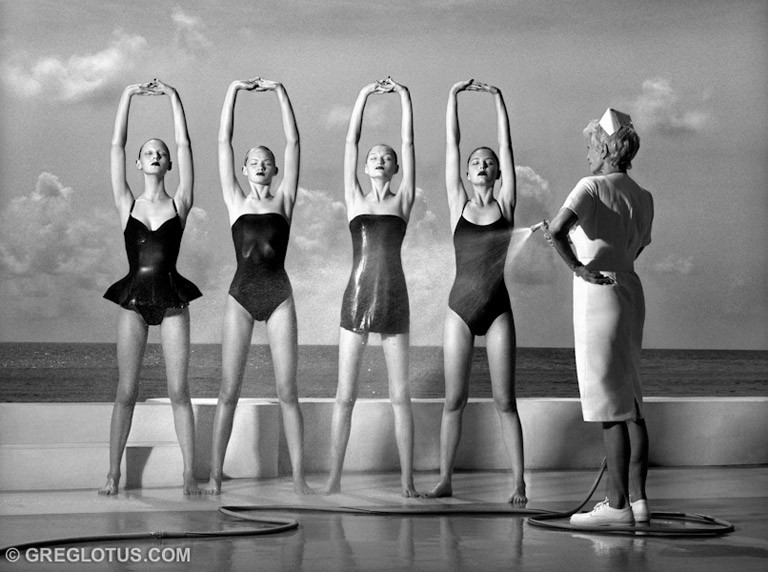 08/10 - »NURSE« 53"x71", Italian Vogue, 2005, Limited edition of 10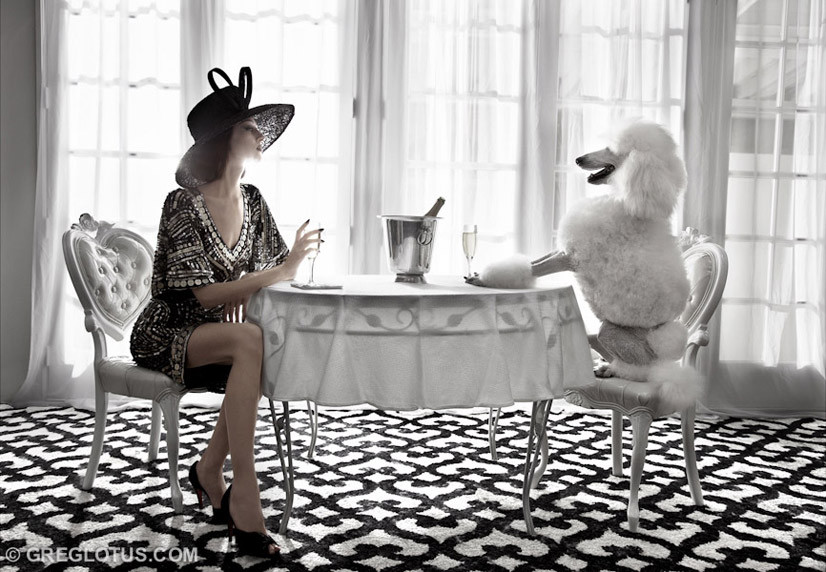 09/10 - »CHAMPAGNE POODLE« 40"x60", Italian Vogue, 2009, Limited edition of 25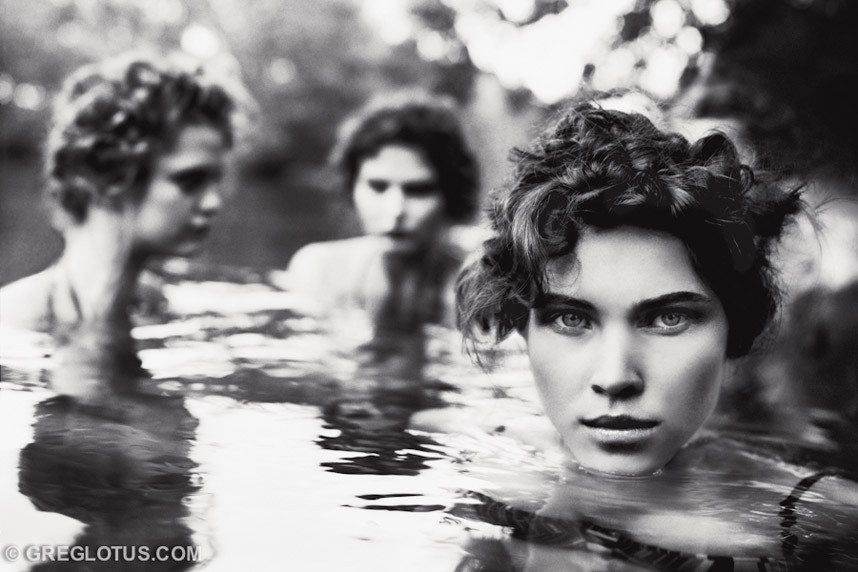 10/10 - »SUMMER DAY« 40"x60", Italian Vogue, 2005, Limited edition of 10
»The modeling did take me out of small-town life and brought me to Europe, but I really hated it. I guess it has made me sympathetic towards the models and celebrities I photograph, and at the same time also more aware of what to expect from a truly professional model.«
Today, Greg Lotus can only be found behind his Red Camera or a Canon taking pictures of Hollywood stars such as Eva Longoria, Penelope Cruz, Megan Fox, Pierce Brosnan, Monica Bellucci, and Chloe Sevigny. It's easy to say that Lotus is responsible for those covers that make men smile and women a little envious. Ask him what makes a good cover though, and he shares the credit:
»A good team makes a good cover: A good subject, good stylist, good concept, hair, make-up, light, and finally a really good photographer who pulls it all together. That's probably the most complex aspect of my job. Fashion photography is not point-and-shoot photography; it takes a lot of brain-storming, organizing, coordinating and preparing.«
Doing campaigns for big brands, however, works out a little differently for Greg Lotus when clients already have a vague concept in mind that is linked to their brand and their customers:
»But then it's up to me to interpret and define that concept, translating it into images or working directly with the art director.«
Often, Greg Lotus uses wild animals in his photo shoots like Richard Avedon once did with elephants or the famous French painter Henri Rousseau. Not deer but rather more exotic ones.
»I'm completely self-taught, lots of trial and error over the years.«
Greg Lotus
»I especially love giraffes; they're my favorite. Once one of them kissed me while I was trying to get a good close-up of his face. I loved that moment.«
In the future Greg Lotus wants to move deeper into the art scene. He has already received several requests to show his work from a number of galleries outside the United States. And anyone who likes Greg Lotus' portfolio can be sure to discover some pictures that haven't been shown before:
»Art gives me the freedom to share images I love that were never selected for editorial purposes and also some which were shot only for my personal pleasure.«
Interview by Julia Stelzner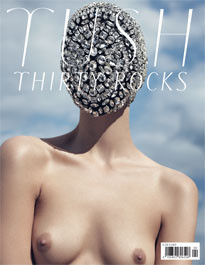 ANNIVERSARY INTERVIEW
TUSH MAGAZINE
An interview with Armin Morbach about the 30 issues of TUSH magazine.
READ MORE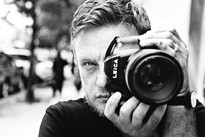 INTERVIEW
Rankin
The third issue of the S-Magazine features, for the first time, pictures taken by just one photographer – Rankin. In these nine series of photos everything revolves around the theme of hair. The London photographer worked with renowned stylists and even let them take on the staging of the respective series.
READ MORE