Andoni & Arantxa are not only a twosome behind the camera, they are also a couple in private life. Both coming from Spain, they first got to know each other in Madrid before meeting again a few years later in San Sebastian. From then on the former musician and the former model were inseparable and started traveling the world. They've already stopped in London, Paris and New York but at the moment the two photographers, who are represented by

Close Up Milano

, live in Milan.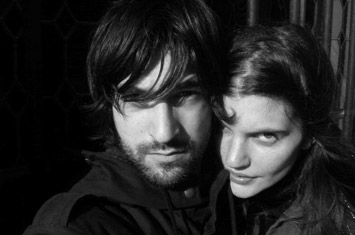 Andoni & Arantxa,

www.andoniandarantxa.com
Arantxa, when and where did you start working as a model?
Arantxa: I was 17 and living in a very small town close to the Pyrenees. I was scouted by a model agent to take part in the elite model contest in Madrid what I just did. Before that, I had never thought fashion would be part of my life. But then everything completely changed. I first went to Barcelona, then Madrid, Milan, London, Paris, New York and Tokyo. I couldn't imagine my life now without fashion - I've been modeling for ten years. Instead of my earlier studies in northern Spain, I've been studying at the "University of Life" which is great.
Andoni, you worked as a musician in San Sebastian before. Why did you both decide to go into photography?
Andoni: Well it actually just happened naturally. We were living in New York and did this amazing road trip for a month; taking pictures non-stop - we just fell in love with this way of life.
Did you later study photography or are you both completely self-taught?
Arantxa: Back in New York we decided to take some basic lessons. It's important to know the rules - even if you just want to break them. We went to a small school in Manhattan for about two months and had this amazing teacher, Inbal, who taught us what we needed to know. We still thank her today!

Is it always clear who is responsible for what?
Andoni: As we started taking pictures together we've grown up with each other as photographers. And without thinking too much about it, ours roles in the team have gradually evolved.
Do you share the same taste in everything? Such as art, food and music?
Arantxa: We really do. We both have a passion for Italian food and we love songs by Nina Simone, Bob Dylan, Leonard Cohen, Janis Joplin, Joy Division – just to name a few.
In one sentence: What makes a good team?
Arantxa: Respect and mutual understanding. And in our case – more than anything – love.

You've both travelled a lot. What's your favorite destination?
Andoni: We will always love Paris because it still feels like home when we are there. We also like to be in Rome. But mostly we just like to discover and enjoy every place we go to.
You have your own blog. Which blogs do you follow and why?
Our good friend

Mayte de la Iglesia

, the great

Custodio Pastor

and the sweet

Esperanza de la Fuente

.
If there were one editorial shot you had to hang in your apartment for the rest of your life, which one would it be?
Andoni: That one is still to come. But at the moment we'd choose the latest cover story for

View of the Times Magazine

with the stunning Marina Perez.

Can you give us a recommendation: What's your favorite spot in Milan?
Arantxa:

Rita's Cocktail Bar

has a relaxed ambience and is a great spot to get amazing drinks. We also love eating in Bergamo, which is 30 minutes away from Milan at the terrace of

Al Donizetti's

. It's simply amazing food with a breathtaking view.


Interview by Julia Stelzner