Part of a world that is fast-paced and constantly reinventing itself, fashion photography is in constant motion. What will the dominating fashion photography trends 2022 be, visually, technically, and artistically? That's the question we asked a bunch of Previiew photographers, whose forecasts will bring you up to speed with what's the latest in the industry, from more diversity to the arrival of NFTs.
1. Nudity, curves & imperfections
Scars, unshaved body hair, visible rolls of body fat… Today's fashion editorials keep adapting to reality as it is, moving away from the widely unattainable beauty standards that have been defining the industry for decades and that we've regrettably all become accustomed to. To cite just a few recent examples embracing nudity, curves, and imperfections: Alva Claire shot by Nagi Sakai for Cero Magazine Issue 3, Paloma Elsesser shot by Dan Martensen for British Vogue, or Wendelien Daan's "Féminin Pluriel", a look on beauty of the female body in all its shapes.
 
While the fashion photography trend is also reflected on the world's catwalks and a lot of progress is being made, Italian photographer Marta Bevacqua feels that there is still a lot that needs to change: "I hope that 2022 will be the year where there'll be no more censorship on female nipples, pregnant women, or post partum pictures. This is mostly connected to the social media world, and the photography industry has the power to go against the current. Generally, imperfections and curvy models should just be something normal – as opposed to a trend that's being jumped on and exploited."
 
Although it undoubtedly signifies enormous progress that bigger women and imperfect bodies are becoming an integral part of the visuals we're surrounded by on a daily basis, it doesn't necessarily mean that inclusivity is being achieved on a more meaningful level. Veronica Pome, a plus-sized model, told the Editorialist: "It's just trending to be more inclusive. We're nowhere near halfway through the work that needs to be done."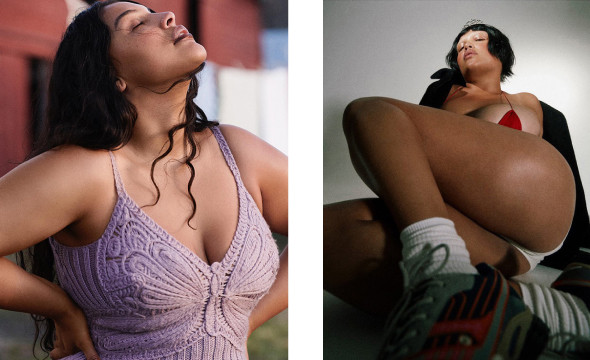 Dan Martensen for British Vogue / Nagi Sakai for Cero Magazine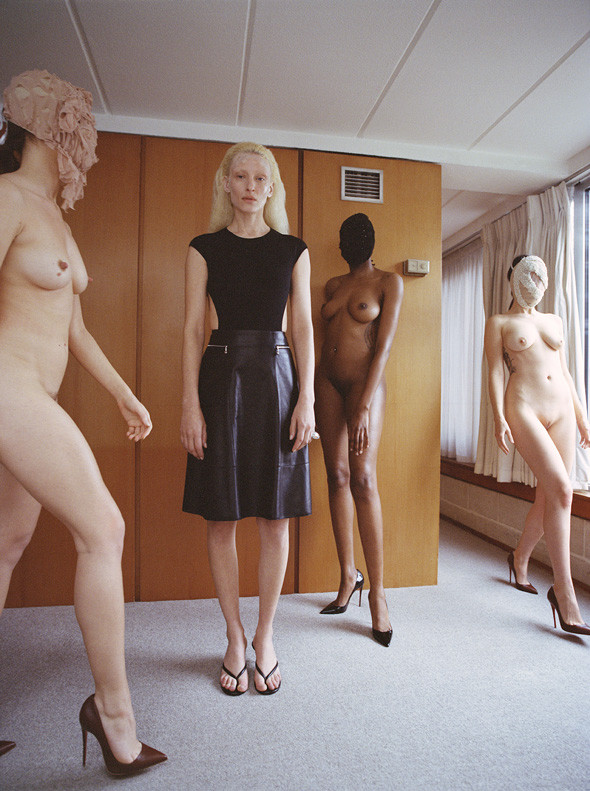 Michal Pudelka for CAP 74024
2. Togetherness
If there's one prevailing feeling to define these last two years dominated by the global pandemic, it is most probably that of isolation. No matter what age, profession, or where we're from – at one point each one of us has experienced it in one way or another, and terms like 'touch starvation' have entered our vocabulary. Naturally, the repeated lockdowns have made people appreciate the value and necessity of connection and relationships, a realization that has also found expression in fashion photography in the form of a trend that could be described as 'togetherness'. Tender, intimate images of affectionate gestures, sometimes of people with different skin colors, reveal a new-found taste for connectedness and human touch that we think will continue during the coming year.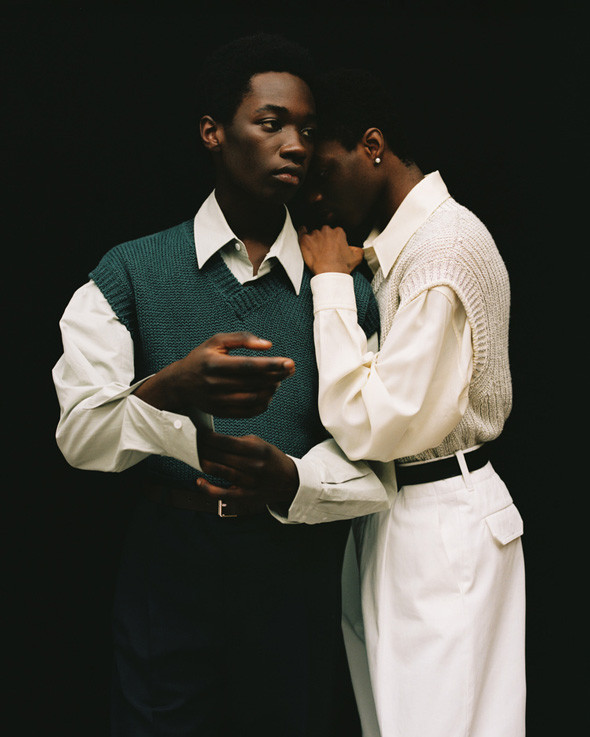 Sarah Blais for Dapper Dan Magazine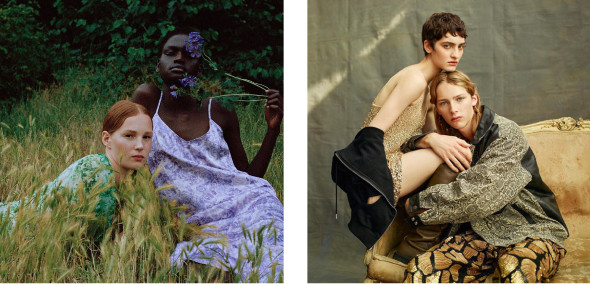 Stephanie Pfaender for Office Magazine / Kiki Xue for Boycott Magazine
3. Diversity
As already mentioned above, the fashion and thus photography world is on a constant path to more inclusivity. And it goes far beyond imperfections and curvier body shapes: Diversity in fashion is equally growing when it comes to skin colors, racial backgrounds, age, and the LGBTQ community. The definitions of beauty we witness in fashion editorials are without a doubt changing and expanding – diversity is becoming the new norm and traditional beauty standards are being redefined.

At the most recent Valentino show, half of the models were non-white and some over 60 years old. Iconic author Joan Didion became the face of Céline at age 80, nonbinary models grace runways and magazine covers, and British Vogue featured a little person, Sinéad Burke, on its cover for the first time. Just earlier this month, the magazine once again became a major talking point with its cover featuring nine black models shot by Rafael Pavarotti. Antwaun Sargent, author of The New Black Vanguard: Photography Between Art and Fashion, told Vogue: "There has been a black renaissance in artistic production." Let's hope that diversity will persist to thrive not only in front of the lens but also behind it.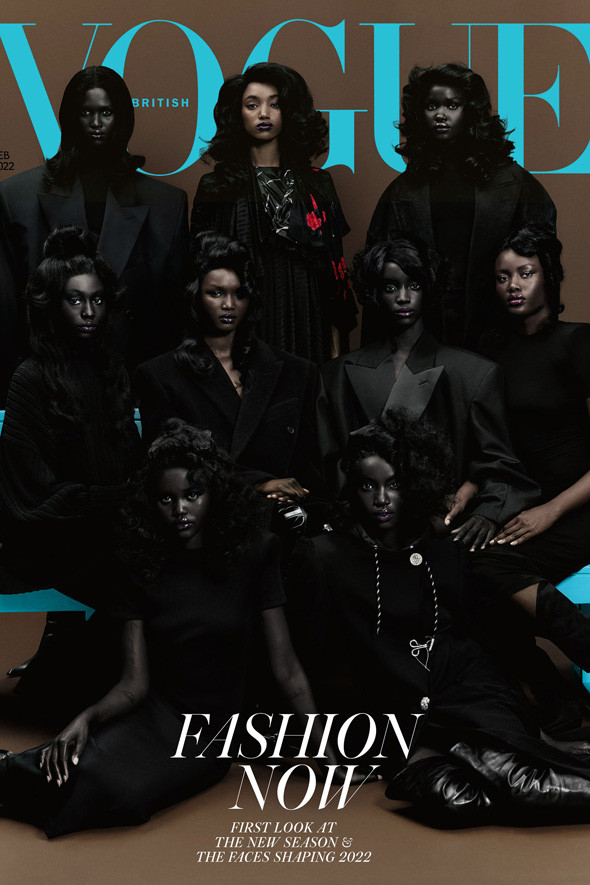 Rafael Pavarotti for Vogue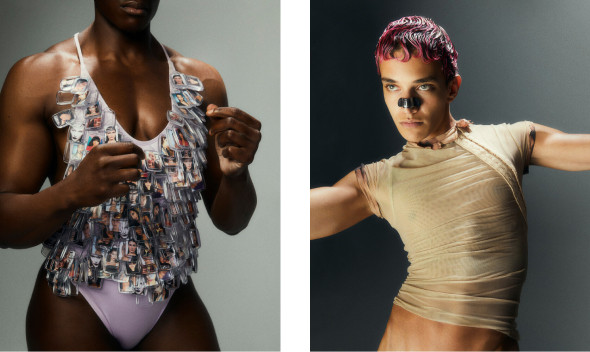 Antoine Harinthe for Daily Things Journal
4. Concepts & Details
Digital photography and mobile phones with their ever-improving built-in cameras in particular have made the realm of photography much more accessible for everybody. Maybe that is the reason for the trend which German fashion photographer Joachim Baldauf predicts: "Instead of snapshots and incidental photography there will be a comeback of conceptional images with significant content", he says, adding: "Images with details don't work on Instagram but they do work as an artistic expression."
 
He's not the only photo pro expecting a countermovement against social media and point-and-shoot photography. His colleague Armin Morbach agrees: "It will be the comeback of 'big' photography, showing the viewer there is someone playing with light, make-up, models, trying to find something special, create something more, an overall concept, something interesting. Not just a girl in front of a grey wall."
 
While photographer Sarah Blais applauds the increased creativity she has spotted in creative post-production work, she hopes Baldauf and Morbach will be proved right: "I feel there is less intention in the concepts themselves. Hopefully a new trend in 2022 will be to take more time with things. To think through what we are trying to express."
 
This notion of hurried working is something photographer Dan Martensen, based in New York, has picked up on as well: "Everything is more more more, faster faster faster… On the one hand there are people who took the time to slow down, and we've seen bodies of work come out that have truly been incredible, work done in isolation, work done slowly without deadlines or the pressure of attracting crowds or likes or money… Then on the other hand there is work since the pandemic started which feels rushed, half-baked, fast and dumb. Some of us I guess felt the urge to speed up, panic, produce more, not think more, not feel more. I get the feeling social media and the lack of human contact contributed greatly to some of this work simply by making people feel like they had to make work fast in order to stay in the conversation. It's almost like we've seen the sad trend of overpopulation of imagery accelerated tenfold recently and I'd love to see people take a bit more time to think their work through and develop it fully before throwing it out there to the endless scroll of mediocrity."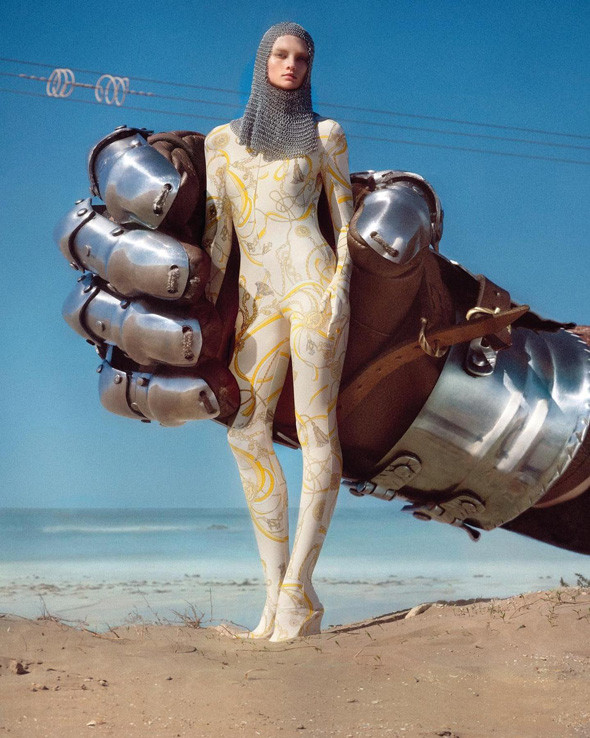 Txema Yeste for Numéro France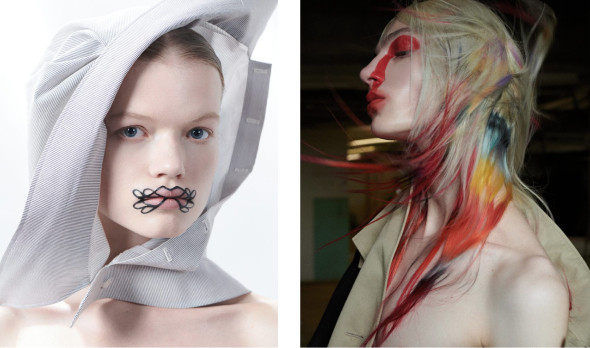 Armin Morbach for Tush Magazine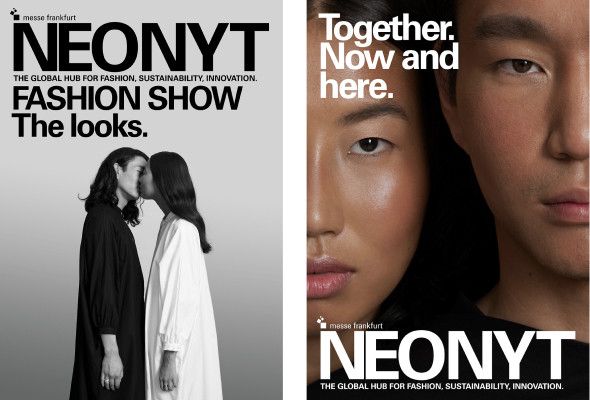 Joachim Baldauf for NEONYT
5. Effects
Special effects don't only exist in the movie business, but also play a big role in fashion photography, as for example in the artistic universe of fashion photographer Daniel Sannwald. He is convinced that heavy effects will be a major trend we'll see pop up in fashion editorials throughout the coming year: "I think digital noise will take over the film grain aesthetic from the last years and we'll see a lot more raw digital techno textures as well as a low-fi feel. I also feel we will see a lot of ghosting and motion blur effects again", he says.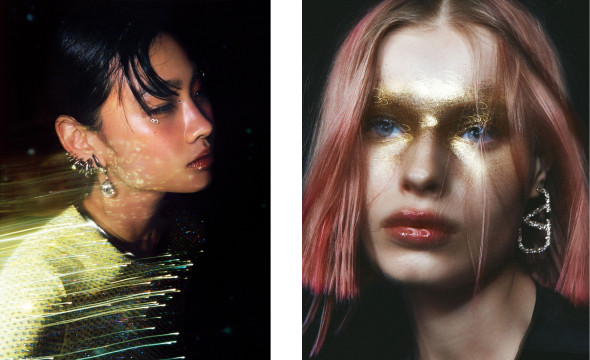 Harley Weir for Vogue US / Van Mossevelde +N for Luisa Via Roma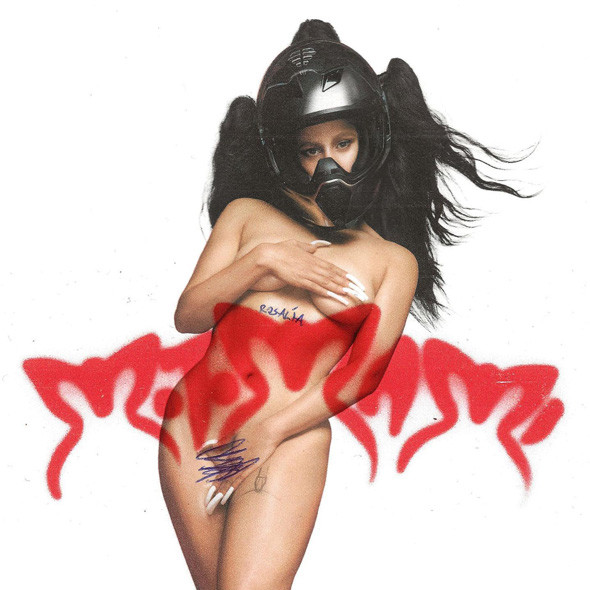 Daniel Sannwald for Rosalía
6. Analogue photography
That shooting on film has made a comeback in recent years is no secret. While Dan Martensen is convinced it's a trend that's here to stay, he hopes that people will further refine their techniques. "A lot of the work done on film in the recent past shows a lot of experimentation and willingness to take risks, but as time goes on I hope to see people hone in on some of the 'mistakes' and 'happy accidents' that film allows for, and that they start developing them (no pun intended) into new forms of visual expression through the manipulation of the medium. To be able to reproduce the mistakes takes technique, practice and is a choice we as artists can make. Sometimes the way I see people shooting film seems to be a bit unrefined, like the work feels primitive. As a photographer who has been shooting and experimenting with film for over 20 years now, I think I'd like to see more masterful command over the medium in the future", he says.
 
Armin Morbach has a similar impression: "It's very important to keep experimenting. Put the film rolls in a fridge, step on it… try out things to get certain special effects. But always keep a digital back-up for safety!" Although German photographer Joachim Baldauf also sees the analogue trend continuing, he personally prefers to shoot digitally: "It's more sustainable."

Another interesting take on the subject comes from German photographer Stefan Dotter, who defies the notion of classifying analogue photography as a trend: "Analogue photography is the natural state of the medium, not a trend. Digital and analogue differ in the same way as a piano and an electric keyboard. We can imitate something electronically but we'll never be able to reach the quality of the original."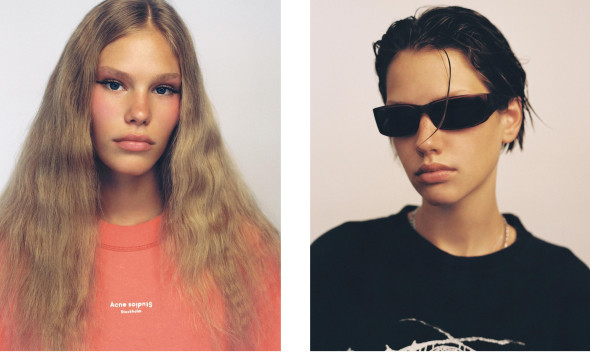 Mathieu Rainaud for Unprint magazine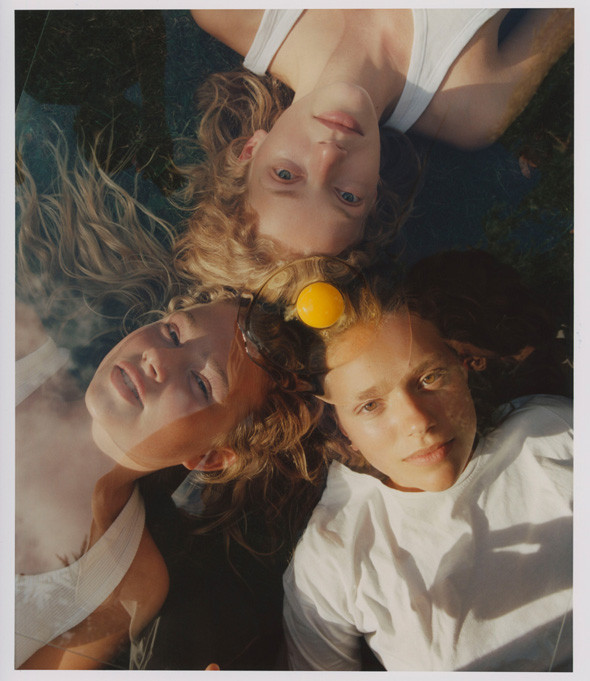 Stefan Dotter for FAZ Magazin
7. AI photography
For Spanish fashion photographer Txema Yeste, 2022 will be all about AI (Artificial Intelligence): "There are many different aspects to it", he explains, adding: "It's not just smart tools helping to take photographs, but also new creative options appearing through algorithms and filters. There will be many new possibilities, for example the combination of pictures through algorithms. There are new horizons in front of us." Indeed, AI is quite the buzzword in photography. AI cameras for instance learn about settings and image processing, automatically recognize what is displayed in a scene or are capable of automatically blending different HDR images should the light conditions require so. Additionally, the technology facilitates the editing process and makes it more accessible, and is also responsible for intelligent photo management software.
8. Bold Colors
Pale and muted is out, bold and vibrant is in: The omnipresent eye-catching color choices that can be witnessed in fashion photography at the moment are here to stay. Accordingly, Pantone's color of the year 2022 is a dynamic blue that possesses vivid violet-red undertones. On the runways, the development is similar: We spotted saturated blues, hot orange, vibrant lime green, and more. Brazilian photographer Rafael Pavarotti has been elgenantly playing with intense hues a lot recently, just like Carlijn Jacobs and Elizaveta Porodina.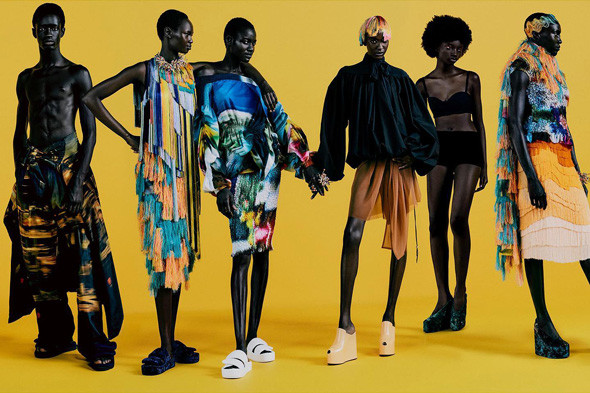 Rafael Pavarotti for Dries Van Noten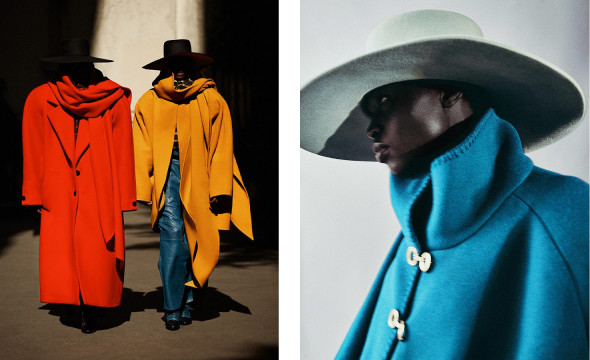 Carlijn Jacobs for Vogue Netherlands / VanMossevelde for D La Repubblica
9. NFTs
NFTs (non-fungible tokens) are on everyone's lips these days – be it in the art world, the music industry, and of course, also in fashion photography. It's especially relevant when it comes to digital art, providing a way to authenticate the digital asset the token represents – for example a photograph or video.
Trend-aware Previiew photographer duo Synchrodogs has jumped aboard the NFT train already, offering selected works in NFT form on SuperRare, one of the major marketplaces for the sought-after hot cakes together with Foundation, Nifty Gateway, Rarible or OpenSea. Is it just a hype, or will it develop in a new income source for photographers in the longterm? Here at Previiew we're very curious to see what the future of NFTs in the fashion photography industry will look like.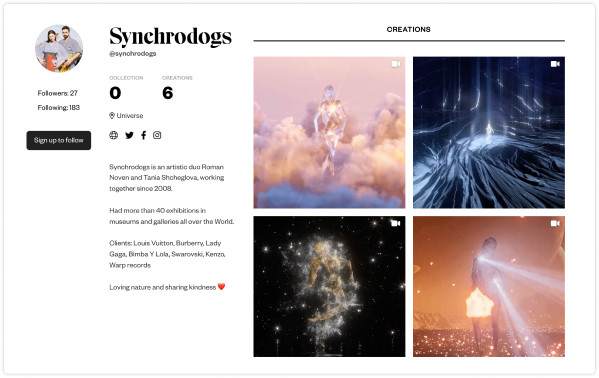 Synchrodogs on SuperRare
For more fashion photography trends feel free to check out our Newsboard, with the latest work from Previiew photographers and stylists or listen to one of our insightful photography podcasts.


By Sarah Schug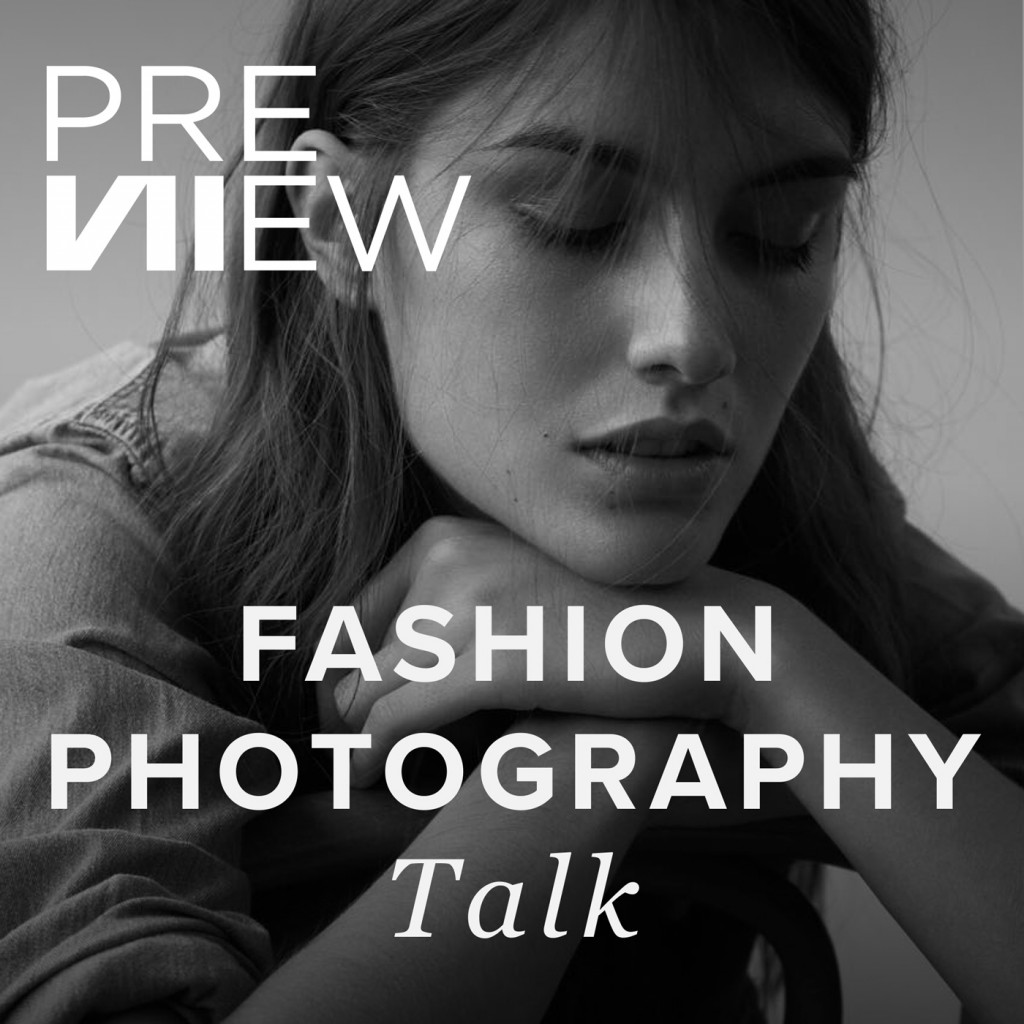 Podcast
Fashion photography podcast and interviews
On no particular schedule, we publish photography podcasts providing useful glimpses into an industry that can feel hard to penetrate at times. Through personal stories and experiences our guests, which range from booking directors, creative directors and agency founders to established and emerging fashion photographers and stylists, take you with them behind the scenes.
READ MORE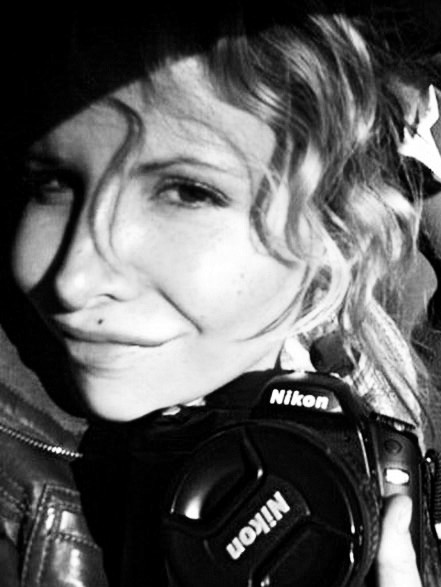 Interview
Stéphanie Volpato
A conversation with French, self-taught photographer Stéphanie Volpato whose lively celeb and fashion images revolve around human expressions, emotions, and body movements, championing authenticity and featuring more smiles than one might have learned to expect in the fashion world.
READ MORE